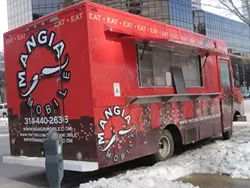 As you might have heard,
a federal judge has issued a temporary injunction barring Mangia Mobile from using that name
. Several readers have suggested new names for the food truck, some of them quite good.
However, here at Gut Check International Headquarters and Branding Emporium, we believe there is a better solution than creating a new identity from scratch.
Anagrams.
Not only would Mangia Mobile win favor from those who love wordplay, it would drastically cut the cost of rebranding: It wouldn't have to redesign the entire truck, but just cut out and rearrange the letters in its name.
We liked this idea so much that we went ahead and winnowed the list of possible anagrams to our ten favorites.
10. Albino Magi Me
Pros: Sounds sort of like the title of an R.E.M. song.
Cons: Sounds sort of like the title of a latter-day R.E.M. song.
9. I Big Melanoma
Pros: Evokes sympathy.
Cons: Needs a comma to make sense grammatically.
8. Ammonia Bilge
Pros: Daringly counterintuitive.
Cons: Possible trademark conflict with Ammonia Bilge by Niche
7. Mailman Bogie
Pros: Evokes a kind of spy-movie cool.
Cons: Will grow tiresome correcting customers: "
Bogie
, not
boogie
."
6. A Emailing Mob
Pros: Appeals to today's tech-savvy youth.
Cons: Yelpers might take it personally.
5. Amoeba Gin Mil

Pros: Small-batch distilleries are the new food trucks.
Cons: You're a food truck, not a small-batch distillery.

4. Egomania Limb

Pros: Embraces the haters.
Cons: Almost certainly there's already a rock band somewhere with this name.

3. A Imam Ignoble
Pros: Embraces diversity.
Cons: Nope. Can't see how anyone could object to this.
2. A Nag Immobile
Pros: Reminds customers you're a plucky upstart who won't be pushed around.
Cons: Reminds customers you're a plucky upstart who lost.
1. Gimme No Labia
Pros: Subtle way of telling haters not to give you any lip.
Cons: What do you have against labia?