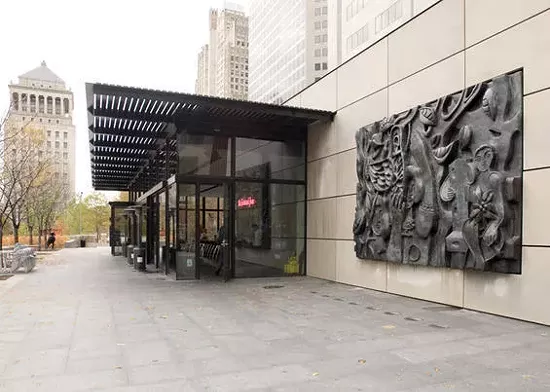 Jennifer Silverberg
Time is almost up for the Terrace View in Citygarden
The Terrace View
(808 Chestnut Street; 314-436-8855) will close at the end of the year,
Feast
reports
this afternoon. Beginning October 1, the restaurant in downtown's Citygarden sculpture park will open only for lunch Monday through Friday.
Chef and restaurateur
Jim Fiala
opened the Terrace View in the summer of 2009. Late last year, the restaurant started serving several dishes from the menu of Fiala's Italian restaurant,
Acero
.
Update
: (Tuesday, September 20, 11:42 a.m.) The dinner business -- or, rather, the lack thereof -- sealed the Terrace View's fate, owner Jim Fiala tells Gut Check.
"When we made the lease, I gave myself two and a half years' time to see how it would work," Fiala says.
"The return is not significant enough to make me want to continue."
"We do fine at lunch time. We have a great lunch business," he adds. "It's kust getting people downtown for dinner."
Remarking on a recent night when the Cardinals were playing at home to a nearly full crowd, Fiala says, "There [was] not a soul walking around the streets."
Fiala says he'd rather spend time with his other restaurants -- the
Crossing
,
Acero
,
Liluma
and the new
Liluma Side Door
-- as well as with his family.