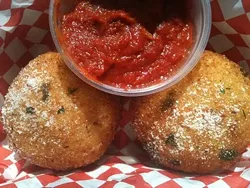 Robin Wheeler
The Arancini from Mangia Mobile.
As reported this morning in the St. Louis Business Journal (and Tweeted by you), Mangia Mobile must change its name. A hearing today will determine exactly how and when the family-owned food truck must go about doing so.
This decision comes following a lawsuit Mangia Italiano (3145 South Grand Boulevard; 314-664-8585) filed this summer claiming that Mangia Mobile chose a "deceptively similar" name and sells "food products of a significantly lower quality and variety" than the south-city staple. Considering the confused comments on our blog post and on Twitter ("wait - so they AREN'T the same restaurant?"), the stationary restaurant may have a point.
Furthermore, this case proves that a defense built on nonchalance and confidence isn't a very solid one.
While Mangia Mobile lost this case, it's time to channel all that nonchalance and confidence again, brush the dirt off its bumpers and move on. It all starts with a new name.
Readers, help the Daake family out. Suggest some new names for Mangia Mobile in the comments. If you need some inspiration, we know they have a fantastic sense of humor and they love Casablanca.