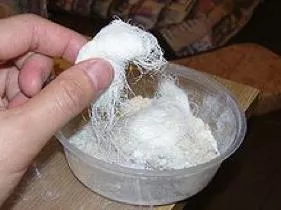 Wikipedia
Dragon's beard candy and the guy who makes it will be America's downfall.
When China takes over, it's not going to be because America's in so much financial debt to them.
It's going to happen because Americans will be so mesmerized by the sight of a guy who can take a hard brick of honey and some cornstarch, and in a mere two minutes turn it into 16,000 fine strings of honey which he then turns into candy.
First they mesmerize us with the technique, then they drug us with sugar. We're a nation that can't stop when we walk past a fudge-making shop -- and they've been doing the same thing in the same mall for 30 years.
We don't stand a chance.
(Yes, this video was shot in Korea, but it depicts the making of dragon's beard candy, which was invented in China more than 2,000 years ago. See? It's taking over.)