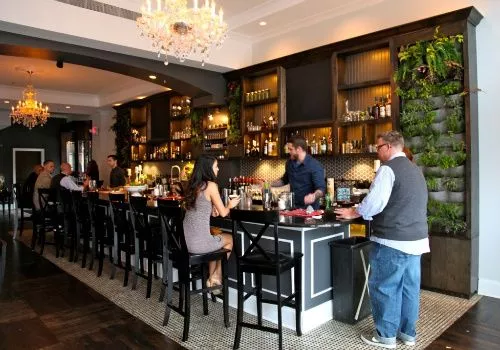 Beth Farrow Clauss
The bar, complete with live ferns at Blood and Sand
Blood and Sand (1500 St. Charles Street) the private bar and restaurant owned by TJ Vytlacil and Adam Frager opened its doors on Saturday night to its charter members. Still smelling slightly of spackle and paint, the restaurant was as fresh as a newborn baby.
The space is large and open, with the expansive bar area separated from the dining area by hanging window panes and a large open kitchen running along one side of the restaurant. Behind the bar are two large panels which hold live potted ferns. Black and clear crystal chandeliers hang from the high ceilings while deep red leather booths offer the majority of the seating. Every detail of the space seems to have been excruciatingly planned out, from the floor to ceiling etched windows to the logo for the restaurant which features two raindrop shapes facing each other - one darkly shaded like a drop of blood, one half filled and inverted like a hourglass emptying of sand. Surprisingly the space feels easy, open and relaxed.
Beth Farrow Clauss
Veal Sweetbreads, Orange Chicken style at Blood and Sand
Arriving only a half an hour after doors opened, the bar area was already filled with people. The hand crafted cocktails run between $9 and $12 and are separated into three categories: variations on the classic scotch-based Blood and Sand, those custom created by Vytlacil and two lonely beer cocktails. We ordered "Dancing Shoes," a concoction of aged rum, lemon juice, raw simple, Averna, grapefruit bitters and rose champagne. Arriving a lovely pinched cheek pink, it was balanced, refreshing and whetted the appetite.
An expansive wine list is in the works with most of the over one hundred bottles priced under $50, but it was not available on opening night.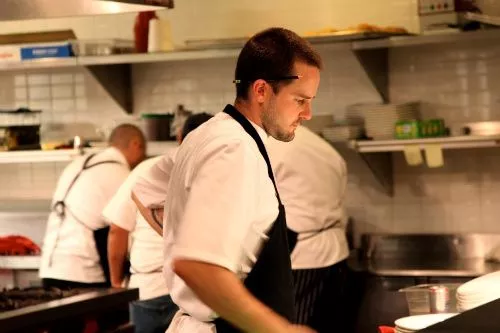 Beth Farrow Clauss
Chef Chris Bork of Blood and Sand
The kitchen is led by the talented Chris Bork who has created three sub-menus. About a dozen "nibbles" from $2 to $6 which include hush puppies with mole dipping sauce, a Spanish style omelette, country ham with house-made mustard and truffled tater tots, which we ordered. A small oval bowl of potato croquettes in the recognizable tot shape arrived, delicately crispy on the exterior and velvety smooth and piping hot on the inside.
The small plates menu offers about ten options mostly in the $8-$10 range. Roasted mushrooms and cauliflower with anchovy and thyme, a cheeky shrimp cocktail composed of tomato gelee instead of traditional cocktail sauce and "orange chicken-style" veal sweetbreads with rice scallion puree all stood out. The sweetbreads made it to our table and were crispy, tender inside and accompanied with a vibrant and punchy thin green sauce.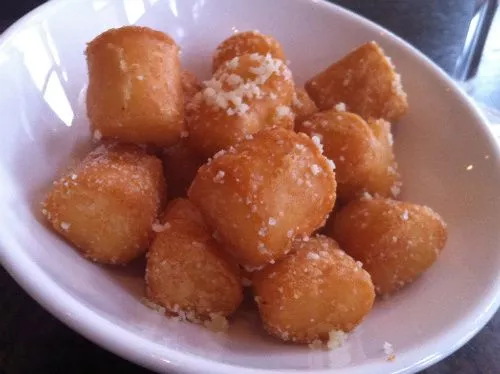 Holly Fann
Gimme some of your tots...truffled tater tots
A brief five-item entree menu suggests the restaurant's intention is for guests to linger and graze rather than sit, eat and flee. Fried chicken, Prime Rib and Seared Sea Scallops made up most of the $12 to $30 options.
"We've been crazy busy the last 24 hours," said Vytlacil as he stopped by our table, "but we're excited." The bar was packed and the restaurant seating at full capacity by the time we left. The question of whether a private club with a monthly fee could fill up has been answered, at least for the first night. To be a member (there is a 400 person maximum) go to the restaurants website and be prepared to pay a $15 per month fee, which will allow you and up to three guests unlimited visits.