Julia Gabbert
Howie Sher stands with his new snack food, What-A-Ya Nuts?! Sher was pleased to see that a Schnucks location had almost sold out of the product after Labor Day weekend.
In the fall of 2009, Howie Sher stood before his pantry looking at the different varieties of bland nuts and trail mixes his wife had purchased. He thought to himself, "What-a-ya, nuts? Do I live with a bird?"
Armed with an attention-grabbing product name, Sher went to work mixing his wife's almonds, cashews, pecans and sunflower seeds in an attempt to create a product that would liven up the snack nut industry.
Two years later, What-A-Ya Nuts?!, the "modern day Cracker Jack," can be found in grocery and specialty stores across St. Louis.
"I've always gravitated toward the snack aisle," Sher, 44, says. "I wanted to identify where in the snack aisle could something be brought to it that differentiates itself from what already existed."
A native of St. Louis and fourth-generation owner of four Metro East grocery stores, Sher wanted to create a snack that not only tasted good, but was composed of all-natural ingredients. He operates by a simple philosophy: "If you can't pronounce it, it's not meant to be eaten."
What-A-Ya Nuts?! currently comes in four flavors: Jalapeno Hysteria, Cracked Parmesan Pepper, Maple Cinnamon Madness and Stark Raving Chocolate. Made in Portland, Oregon, one of the "meccas of natural food," What-A-Ya Nuts?! uses real ingredients like cane sugar and butter, baked to a crunch using oat flour and corn meal to hold it all together.
"It's something I'm very proud of -- that you can produce a food that's good tasting without having to enhance anything," Sher says.
Sher worked with food developers who have been involved with Kashi, Kellogg's, Bear Naked Granola and Ben & Jerry's to create a good-tasting, natural snack food. The snacks are currently carried in more than 100 locations around St. Louis including Schnucks, Straub's, Dierbergs, Jennifer's Pharmacy, Protzel's Deli and Kohn's Kosher Deli.
Herbie's in the Central West End has also added a dessert item to the menu incorporating What-A-Ya Nuts?!: vanilla ice cream rolled in either the chocolate or jalapeno flavor, served atop a slice of pound cake and drenched in a banana fosters-style sauce.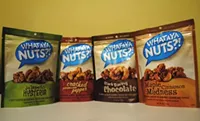 Julia Gabbert
What-A-Ya Nuts?! currently comes in four flavors, although Sher says that more are always in the works.
While the launch in Sher's hometown has been well-received, he hopes to continue the success of the product and eventually sell the product nationally.
"What-A-Ya Nuts?! has got a very engaging personality to it," Sher says. "It is part of conversation even before it becomes a brand. What we're attempting to do here is engage so many more unique channels than the entry of a new food typically does. I believe the food form delivers what the brand name says. I just want people to enjoy it as much as I do."