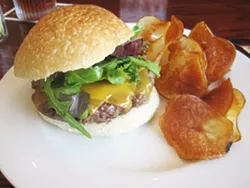 Ian Froeb
The famed Five Bistro burger (at its original home, Newstead Tower Public House)
Five Bistro
(5100 Daggett Avenue; 314-773-5553)
this week introduces two new menu options. On Friday and Saturday, in addition to the regular à la carte dinner menu, the restaurant is serving a five-course tasting menu for $55. Also, from 10 p.m. till midnight Thursday, Friday and Saturday, the restaurant is offering a late-night menu, including its
renowned burger
.
Gut Check spoke with owner and chef
Anthony Devoti
this morning to learn more about the changes.
The tasting menu, Devoti says, is a way for the restaurant to "do the food we really want to do."
"I would love to get way from the à la carte menu [altogether]," adds Devoti, in favor of "two set tasting menus, one vegetarian, one for meat eaters, let everyone focus on ten to fifteen dishes that will just be sick.
"I think that's the way I'm headed. This is my baby step."
Devoti says he envisions the five-course tasting menu as a "relatively quick" dining experience --in other words, it is not the sort of tasting menu designed to last three or four hours, nor the sort to set back diners several hundred dollars once wine is included. Indeed, Devoti hopes the cost will allow diners to feel comfortable enjoying a bottle of wine or a couple of beers with their meal.
The late-night menu, on the other hand, came about from Devoti "shooting the shit" with the restaurant's staff about the lack of good late-night dining options in St. Louis. (Of course, it also makes business sense: "We're typically here late anyway.")
This menu includes Five's burger and its selections of cheese and housemade charcuterie. Devoti is also offering steamed buns with beef short ribs and housemade kim chi as well as a riff on poutine: pommes frites topped with pork rillettes, Ozark Forest mushroom gravy and, in place of the traditional cheese curds, housemade ricotta.
The late-night menu will also serve as a showcase for bartender
Mary Mangan
, who has just finished revising the restaurant's
drink list
(link PDF).
"It's kind of work in progress," Devoti says of the late-night menu. "It's cool, it's fun, it's relaxed."