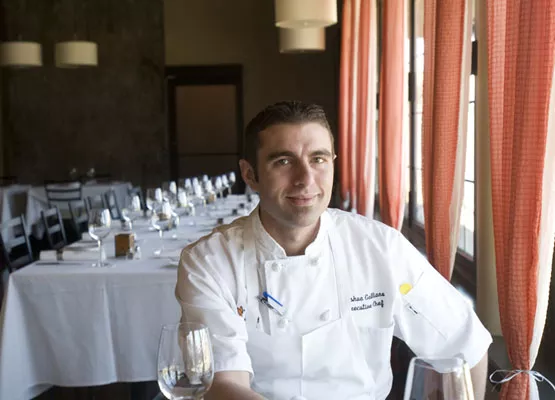 Jennifer Silverberg
Josh Galliano: Normally of Monarch, he served as chef for last night's Patron Secret Dining Society at Busch Stadium.
These days, it is not enough to go to a wonderful restaurant and order a meal that's well-prepared and served gracefully. These days, food must be an event.

And so we found ourselves, last night, standing in the visitors' dugout at Busch Stadium, shivering a bit in the unseasonably cool air and drinking "Autumn in Jalisco" -- a champagne glass filled with an intoxicating mix of Patron Silver, the French apple-based apertif Pommeau, lemon juice and sparkling wine. We'd already slurped up our amuse bouche, a little plastic spoon of steamed clams in sangrita. We were about to swap out our champagne glass for a bigger drink, this one featuring Patron Reposado and Patron Citronge, plus ginger ale and passion fruit juice and lemon -- a concoction that would ultimately leave us a bit tongue-tied and giddy in the way that multiple tequila shots often do.

We were among the few, the lucky. We were, last night, the Patron Secret Dining Society.

You might ask how one gets to join a "secret dining society." In our case, it was because we are media, and Patron, surely, was hoping we'd be so intoxicated by the experience, we'd write about it. (Done!)

But for our companions, the whole thing was a bit more organic, and interesting. Some of them had gotten the tip-off from a friendly bartender. Others had read about the opportunity on a food blog. One even got a call from a friend who saw it on a food blog. Whatever. Through those disparate paths, the 30-plus people in our party made their way to a Patron-sponsored website, where they answered a trivia question. And when they answered correctly, they were lucky enough to get an email from Patron -- telling them that if they RSVPed right away, a seat would be theirs at the very first secret dining society event the company was holding in St. Louis, which included a much-vaunted local chef and some premiere local mixologists. On the day of the event, they'd get instructions on where to go.
As it turns out, the instructions took them to the valet stand at the Hyatt downtown; after that, they were whisked along to a (relatively) secret entrance to Busch Stadium and ushered in, into spaces that mere fans are not permitted to access. Of course photos were taken. Of course all the men in attendance couldn't help but brag about how they were the envy of St. Louis -- this before we'd even had a drink.Manufactured hype? Certainly. But it's not like the demand was fake. One of our dining companions, a 30-year-old gourmand we'll call "J" who kept reminding us that every word he uttered was off the record, told us that he'd heard about the contest and persuaded every last one of his friends to enter. Only one got the nod from Patron -- and then she found out she was pregnant and, therefore, had to eschew tequila. So she gave the RSVP to her husband, and he picked "J" as his +1. Destiny! You can see why everybody there last night felt a bit lucky.

Patron apparently prides itself on coming up with cool spaces for every city it brings the "secret" dining society to, and St. Louis was no exception: Originally, we were meant to dine on the field itself, with tables set up just along the third-base foul line. But the rain made that impossible, and last night's unusually cold temperatures would have made it terribly uncomfortable regardless. After our cocktail and appetizer in the dugout, we were happy to go back inside.

And somehow (perhaps the candlelight, perhaps the excess of Patron we were all throwing back) the place was transformed. In our aerie overlooking the field, the stadium seemed a place of beauty.
The food was by Josh Galliano of Monarch; the cocktails by Matt Seiter of Sanctuaria, Chad Michael George of the DeMun Oyster Bar and Matt Obermark of Salt. After our clams and champagne, we were treated to five more courses, the hit being, arguably, the fourth course: squid-ink pasta atop a bone practically bubbling with delightfully roasted marrow. Served on a bed of sun-ripened cherry tomatoes, corn and a light broth, it was heaven.
The cocktail that got everyone talking went with the next course, the lamb "porchetta," which was a lamb-and-stuffing dish served with green salsa and a plethora of summery green herbs and pea pods. Seiter described its paired cocktail, the Desperado, as the "most collaborative" one of the evening: "It was the hardest dish to pair, the absolute hardest dish."
What they developed was basically a Manhattan with anejo tequila, described by one of the mixologists as "exactly how I like my women -- smooth, sexy, with a little bit of age." It was, indeed, all three, a perfect complement to the gamy lamb.
The evening ended with a chocolate confection -- raspberry sorbet atop a green-tasting beet, a cocoa crumble that the chef described as bursting with "chocolate nerds," plus the most amazing "lime chocolate bark," developed for the occasion by locally owned Kakao, redolent of (of course!) margaritas. It was so damn good that we immediately began to develop plans to trademark the stuff, quit our day jobs and spend the rest of our lives bringing it to the masses.
That might have been the Patron talking. We'll admit it. But isn't that the point?
And while we can hardly blame our hosts for giving a few not-so-subtle plugs to their products ("Why spend money on an expensive booze when you're just mixing it up with different things? Well, a cocktail's so much better if it begins with good things!"), that wasn't really the part of the evening we found ourselves thinking about later. We remembered the marlin, glistening in oil, and how lovely it tasted with the crunch of almonds and a sip of honey-drenched silver tequila. We remembered the Desperado, so much more interesting than your average Manhattan, and the texture of that crazily decadent bone marrow. And we remembered the lime chocolate bark. Someone's gotta devote their life to selling it to the masses, after all. Why shouldn't it be us?
We had been worried, while RVSPing, that a "secret dining society" would feel a little Fin de Siecle -- with the economy in tatters, and so many good people unable to feed their families gruel, much less succulent bone marrow, it should be a little horrible to make dining an event, to tuck into six courses, each with a perfectly paired cocktail.

But it wasn't, not really. Perhaps it was because even in these bad times, we've gotten used to viewing food as an exception to our pared-back lifestyle. Perhaps it was because the event was blissfully free. Really, the dinner felt less like Marie Antoinette suggesting the beggars eat cake -- and more like some of us beggars getting a heady break from the difficulties of life.
After all, this wasn't just eating; it was an event. 20110915_105531_b97ab71f02fc