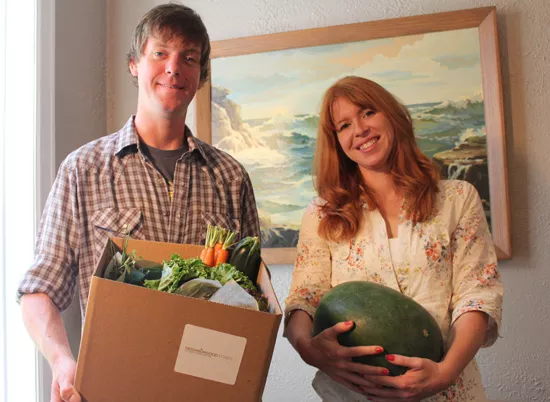 Mabel Suen
John Doelling and Andi Smith, co-owners of NeighborGood Foods.
Imagine getting a big lush box of fresh, local fruits and vegetables each week without even having to set foot outside of the house. NeighborGood Foods, a brand-new company operated out of Maplewood by couple Andi Smith and John Doelling, makes this locavore dream come true. They have been hand delivering a healthy helping of responsibly grown produce straight to doorsteps all over town since early August.
"Not everyone has time to get down to farmers' markets, so we created this concept and ran with it," says Doelling, explaining how they first got the idea after falling in love with Kruse Gardens' lettuce at Soulard Market. "We've been all over Missouri and all over Illinois buying and trying products to share with everyone."
Smith, the "brains" of the operation, comes from a long line of farmers from Madison, Wisconsin, and brings her background in growing as well as knowledge of Web design to the table. Doelling, the "muscle and a little brains," spends a lot of time behind the wheel picking up produce and delivering it from door to door when he's not in the kitchen cooking up a storm himself. The two met, charmingly, through their mutual interest performing standup comedy.
Mabel Suen
A NeighborGood Foods "Basket For One."
"When we drop off these baskets, it's like we're delivering flowers," says Smith. NeighborGood baskets come in six different varieties to accommodate several kinds of households and diets. The most popular, the "NeighborGood for One" basket, costs $25 and comes with ten to fifteen farm-fresh fruits and vegetables from an ever-expanding list of local growers, including Braeutigam Orchards, the Farm at Kraut Run and many more. A packing list details exactly what's in the box, tips for storage and even some handpicked recipes for open adaptation.
Smith and Doelling have made it a personal goal to educate customers on various growing practices and their benefits. "When you're producing more waste through organic growing than conventional growing, I think the upside to responsibly grown local goods becomes more apparent," says Doelling.
"We're taking the best from local farms, farmers' markets and organic suppliers and offer a product that looks beautiful, is fun to cook with and good to eat," he continues. Many items are certified organic, and the rest is grown responsibly on smaller farms. Conventionally grown items are seldom put into baskets.
"Homegrown stuff isn't always pretty," says Smith. "It didn't move to Hollywood and get surgery. It stayed right in its hometown, and it's going to taste better.... We want people to eat better. We want it to be convenient, and we want to help the farmers grow and kind of facilitate that conversation by supporting the local food chain." Five percent of the company's profits go into a "seed money" fund that helps a new grower get started or an existing grower expand.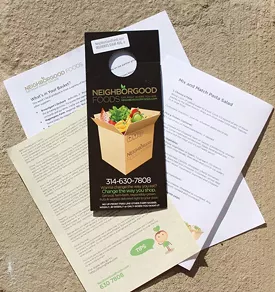 What's next for NeighborGood? Smith and Doelling hope to widen their delivery range and vendor list to provide healthy and affordable food to as many people as possible. They currently serve Dogtown, Clayton, Maplewood, University City, downtown, the Central West End, Richmond Heights, Webster Groves and Tower Grove.
Additionally, the couple hope to obtain a grocer's license to include farm-fresh eggs, meats, dairy and more in their baskets. In the fall, expect to see the likes of apples, squash, corn and root vegetables, and come winter, look for the inclusion of items such as grains, greenhouse goods and locally baked bread to meet the challenges of the season.
To place a personalized order or to learn more about how to "eat right where you are," visit NeighborGood Foods online.