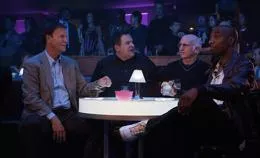 HBO
Larry David and pals curb their enthusiasm tableside.
This weekend HBO's Curb Your Enthusiasm ended its eighth season, which was rife with even more food humor than ever before. Which is saying something from the show that, in past seasons, brought us the Tourette's Syndrome chef and the chocolate penis layer cake.
We've culled our favorite food moments from the eighth season, some of which may curb your appetite.
Who wants Mister Softee after reliving Larry's adolescent misadventures in an ice cream truck?
Larry and Jeff contemplate how awesome Palestinian chicken might be the key to peace in the Middle East.
Brunch buffets have unspoken rules, and an attorney jumps in to defend Larry in his buffet faux pas.
Larry gets more than Thin Mints when a cookie-selling Girl Scout becomes a woman at his house.
After smooching the hostess at a restaurant, Jeff warns Larry on the dangers of shitting where he eats. A negligent waiter tricks Larry into buying a $300 bottle of wine for Ricky Gervais.
Michael J. Fox pokes passive-aggressive fun at his Parkinson's Disease while exacting revenge on Larry with a bottle of soda.
Subway Hero Larry wields the baguette of justice against Ricky Gervais' mugger.