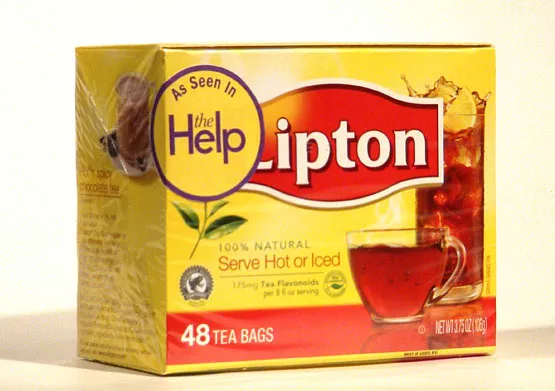 Important words for shoppers everywhere: "As Seen in The Help."
Nothing beats Down South home cooking. We've all indulged in a meal of buttermilk cornbread and crunchy-fried chicken, washed down with a glass of sweet tea. A nice shooter of Bourbon takes the edge off a stressful week, and let's face it -- one slice of chocolate cream pie is never enough.
In The Help, the African American maids do more than look after the children. They go where no white woman had ever gone before, frying piece after piece of chicken, serving up bottomless glasses of sweet tea, and baking a pie that could tempt even the most hard-hearted society woman. It's a bit torturous spending close to two hours watching these delectable dishes float across the movie screen. Luckily, some of these products already exist in the grocery store, and the Republic of Tea is even marketing a "caramel cake tea" inspired by The Help.
Not to be one-upped by the Republic of Tea, Gut Check decided to brand a few other Southern culinary classics from the film. Here are of our favorites:
6. Crisco Minnie is a maid with a mouth, but when she's offered a job by Jackson's most clueless housewife, Celia Foote, she finds a match made in heaven. Celia happens to be the world's worst cook, and Minnie, chef extraordinaire, gives her a crash course in Soul Food 101. The most important ingredient? Crisco, the lifeblood of Southern cooking. And according to Minnie, also great for "dry skin, your husband's scaly feet, or a squeak in the door." A foot cream and a deep fryer? What could be better!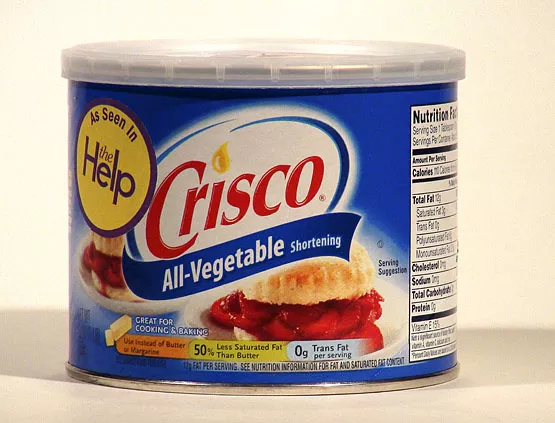 5. Fried Chicken If there's one thing Minnie doesn't do, it's burn her fried chicken. Battering those tender chicken breasts in a pan full of Crisco is practically an art form. Fried chicken is also one of the first dishes Minnie helps Celia learn how to make, and the reason Celia goes up a pant size. The only time Minnie lets the chicken burn? When she gets her first royalty check.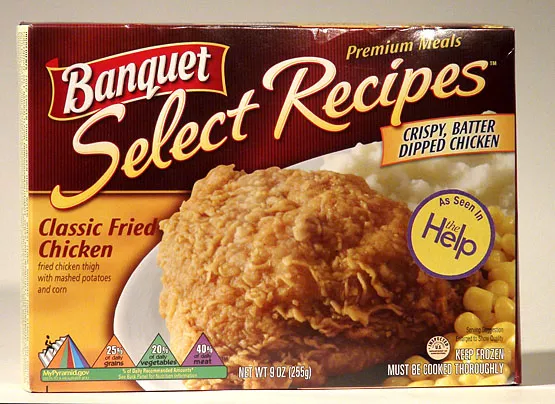 4. Okra It wouldn't be the South without a healthy helping of Okra. Deep-fried to assure quality, this was one of the many dishes that Celia serves to Minnie to thank her for her help.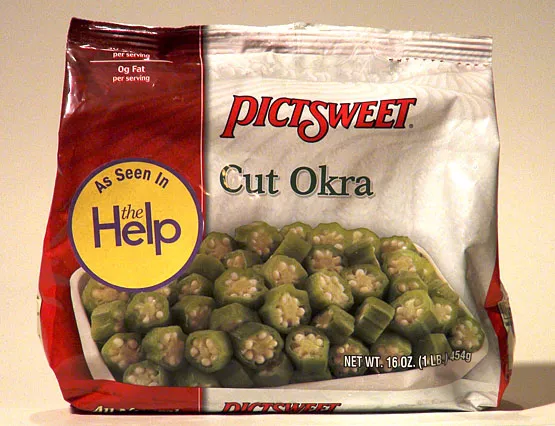 3. Collard Greens When a Southern mother says "Eat Your Vegetables," what she really means is "Eat your collard greens." Cooked up with a sizable serving of smoked meat and butter, the dish conveniently covers all your daily food groups. Even Paula Deen would be proud. And what could be better than a canned version branded with your favorite film?
2. Bourbon Skeeter Phelan, the film's protagonist, doesn't do so well in the romance department. So it's not such a surprise when her blind date, Stuart, turns out to have a bit of drinking problem. We couldn't blame Stuart for kicking back a few shooters worth of whiskey, but when he approached a bottle's worth, we started to panic. No one likes a sloppy date. But when our dates get sloppy, we can feel at least a little better knowing that their bourbon comes branded with the logo for The Help -- proving our man isn't just a heavy drinker; he's a heavy drinker who likes chick flicks.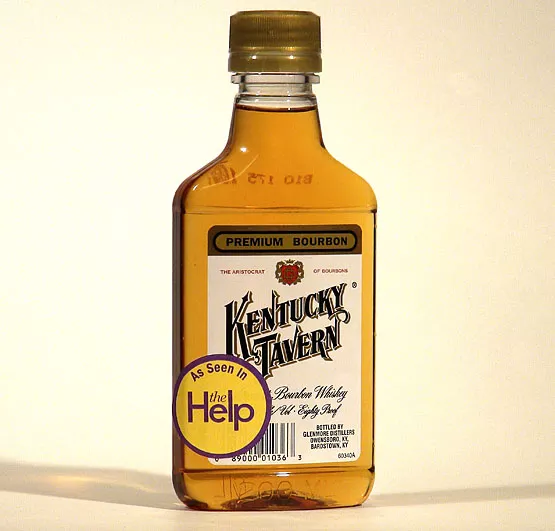 1. Chocolate Pie After Hilly Holbrook fires Minnie for using her toilet, Minnie brings Hilly a pie as a "peace offering." She just forgot to mention the secret ingredient. The words "eat my shit" have never rung so true.
Surely, this frozen version will fly off the shelves -- with fans of The Help devouring the pie inspired by their favorite new film.