Welcome to Spice World, in which Gut Check looks at overlooked spices from around the globe, introducing those you probably don't own -- and probably should.
History: As summer begins its nosedive into fall, with it go certain plants we won't think of again till springtime, like the itchy trio of poisons oak, ivy and sumac. But as a spice, ground sumac berries -- a cousin of the itchy stuff we know stateside -- is not just ingestible, but indispensable in Lebanese and North African cuisines, where they impart a bright, tart taste.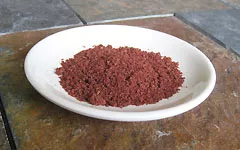 Kristie McClanahan
A pile of non-itchy ground sumac.
Today: Sumac bushes are grown in the Mediterranean and the Mideast, and the berries vary in color from deep red to purple, depending on where they're grown. It plays a role in many popular dishes there: If you're familiar with the spice blend za'atar, you're familiar with sumac, its chief component. The spread -- which also often features oregano, marjoram and sesame seeds -- is commonly spread on pita, and sumac is sometimes blended into a drink to ease upset stomachs.
In Use: Sumac paired with the spinach, feta and onion in these Middle Eastern savory tarts like a dream, lending a sour tang which, along with the lemon juice, lifted the two-bite tarts into an appetizer that was at once familiar and vaguely exotic. The dough was a pain to work with, so instead sprinkle sumac upon store-bought hummus, and act nonchalant when people ask what the reddish lemony stuff is on top.
Kristie McClanahan
Middle Eastern savory tarts.
We found sumac at Penzey's Spices (7338 Manchester Road, Maplewood; 314-781-7177) in a 1.2-ounce jar for $3.75.
What overlooked spices heat up your kitchen? E-mail Gut Check your tips!