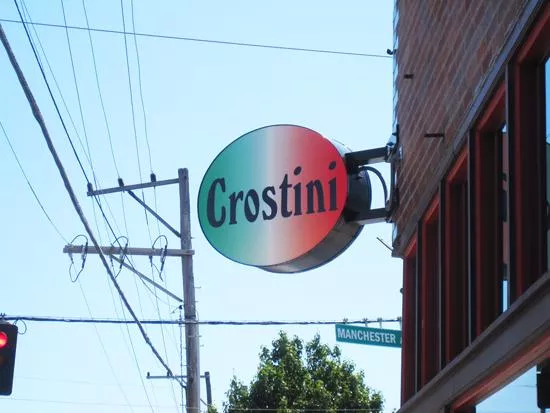 Crostini Restaurant & Lounge
opened this week at 4501 Manchester Road in Forest Park Southeast. When
Gut Check spoke with owner and chef Eric Winbigler
in May, he described Crostini as an "old 'Mama'-style Italian restaurant, a family-style restaurant."
Winbigler is still preparing the restaurant's website, so the menu isn't online yet, but when we caught up with him this morning, he was more than happy to tell us what Crostini is serving.
Grilled sandwiches dominate the lunch menu: ham and cheese with mustard; roast beef and cheddar with horseradish sauce; sausage and peppers with marinara. For those with a sweet tooth there is a combination of Nutella, bananas and marshmallow fluff, a sandwich inspired by Winbigler's kids.
Salads include a straightforward house salad as well as one with spinach, candied walnuts, Mandarin oranges and a raspberry vinaigrette.
(The lunch menu is also available at dinner.)
The restaurant's namesake appetizer appears on the dinner menu. The crostini, priced at two for $3.50, come with such toppings as basil pesto; tomato, basil and mozzarella; and goat cheese and bacon.
Entrées hew closest to Winbigler's concept of an "old 'Mama'-style" restaurant: baked ziti, spaghetti and meatballs, a stuffed shell. There is also "drunken pasta" -- pasta cooked in red wine and then served with sautéed portobello mushrooms, basil and red pepper flakes -- fettuccine with baby shrimp in a lemon-cream sauce and tilapia scampi.
Crostini also offers three grilled pizzas: cheese; pepperoni; and artichoke hearts and roasted red peppers. Winbigler also notes that the restaurant has two vegan-friendly dishes: spaghetti squash with portobello mushrooms, basil and red pepper flakes and a grilled portobello mushroom cap with artichoke hearts and roasted red peppers.
Crostini is open for lunch and dinner Tuesday through Saturday. Call 314-932-5025 for more info.