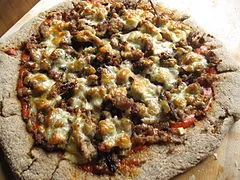 Wikimedia Commons
Help Kate divide the pizza, Anderson!
Let he who has been the single mom trying to feed eight children, a babysitter and a bodyguard on a cross-country RV road trip for a reality television show cast the first stone.
Poor Kate Gosselin. We can't understand what it's like to be her. Thank the lord for Anderson Cooper. He's explained the unexplainable to America for the past decade, from Hurricane Katrina to the 2008 election to Conan O'Brien's hair. Maybe he can help us understand why Kate Gosselin is losing her mind, trying to split one pizza between her eight children, babysitter and bodyguard while taping an episode of her dying TLC show, Kate Plus 8.
But what about the RV driver? And who will make sure ex-husband Jon is fed? Help us, Anderson. Help us understand.