​Where: Winslow's Home (7213 Delmar Boulevard, University City; 314-725-7559).
When: Every Saturday and Sunday from 8 a.m. to 2 p.m. Breakfast served daily from 7 a.m. to 1 p.m.
We Tried: Oatmeal, $6; rolled omelet, $8.50; fruit bowl, $5.
The Verdict: When we stopped by Winslow's Home on the busy Sunday of Labor Day weekend, we knew precisely what we wanted. Inspired by the sudden 30 degree drop in temperature, we were craving thick, sweet, hearty oatmeal.
It seems we weren't the only one. Luckily, we ran into some friends willing to share their table, as the entire patio and all but one inside table were occupied. And inside? On a beautiful, cool autumn day? We're not crazy.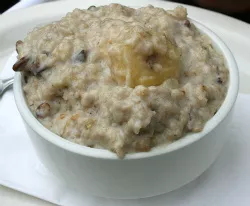 First, we dove into the oatmeal. Described on the menu as organic oats, finished with milk, bananas, pecans and brown sugar, it sounded exactly like what we'd been craving. Our first taste was a mix of utter satisfaction and a sliver disappointment. It was so nearly perfect. The texture was exactly the thick, gooey, chewy with crunchy bits of pecan we were looking for. With the promise of bananas and brown sugar, we were expecting a dense, sweet flavor as well. However, the few hunks of banana on top did little to flavor the rest of the bowl, and had we been making the oatmeal, we'd be likely to quadruple the brown sugar. We requested some honey to sweeten things up, and were directed instead to some agave nectar which, while sweet, didn't quite fit the bill. Next time, we're bringing our own jar of honey (or packing an extra $9 to buy a jar while we're there).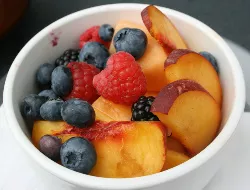 The rolled omelet is love at first sight, epitomized. It's truly beautiful on its own, but topped with the slice of tomato and bell pepper and served alongside the hearty breakfast potatoes and cherry tomatoes, it's damn near everything one could want from a breakfast. And yes, the flavor backed up its lovely looks. The weekend's omelet special was spinach with white cheddar, and there was enough spinach and cheddar to fill every bite throughout the soft, chewy omelet.
Where our oatmeal lacked a bit of sweetness, the bowl of local peaches, cantaloupe, raspberries, blackberries and blueberries was nothing but. The fruit was exactly the light, cool and sweet complement we needed for the rest of our heavy, warm and savory breakfast. On a brisk autumn morning less than 48 hours after our last 100 degree day, it was the ideal bridge between summer and autumn brunch fare.