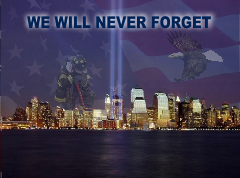 Wikimedia Commons
We will never forget. Unless we overdo it on the 9/11 commemorative wine.
In the decade since the 9/11 terror attacks, there's been no shortage of commemoration: some touching and beautiful. Others ham-fisted but heartfelt. And some that were blatantly out to make a buck on a nation's collective grief.
With the tenth anniversary looming next Sunday, the latter is in full force once again, this time hitting the food sector.
Two weeks ago Lieb Family Cellars on Long Island made news by announcing 9/11 commemorative chardonnay and merlot. But it's not tacky when a portion of the $19.11 bottle price is going to the National September 11 Memorial and Museum, right?
Well, it is when only $1.91 per bottle is being donated. Not that this is a new idea for Lieb Family Cellars. For eight years they've been selling $9.11 bottles of September Mission Merlot, with 91.1 cents from each bottle benefiting September's Mission Foundation.
"What's next?" New York City councilman Peter Vallone Jr. asked the New York Daily News. "A 9/11 pastrami sandwich?"
Nope. A 9/11 sushi roll.
Stingray Sushi locations in Phoenix and Scottsdale, Arizona, which offer such tasteful beverages as the Asian Blonde and Geisha-a-Go-Go, are selling a special 9/11 Remembrance Roll. While we're not quite sure what spicy crab, avocado and asparagus with tuna and whitefish has to do with the terrorist attacks -- please do not use the asparagus to recreate the Twin Towers! -- at least they're being generous. Ninety percent of the roll's $12 price is being donated to local fire fighters' associations.
In Pasadena, California, "a group of community patriots" will hold a solemn ceremony next Sunday to honor the victims of the worst terrorist attacks on American soil. Oh, and the food trucks will be there!
If ever there's evidence that the terrorists didn't win, it's our ability as a nation to eat tacos from a truck while mourning. God bless America!