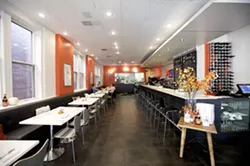 Jennifer Silverberg
Inside Mosaic Bistro Market, now Coastal Bistro & Bar
George Mahe of St. Louis Magazine
reported
today that
Mosaic Bistro Market
(14 North Central Avenue, Clayton; 314-932-7377)
will become
Coastal Bistro & Bar
, featuring seafood, including a raw bar. The name and concept have changed, but the restaurant still belongs to
the Schmitz siblings
, who among their many local ventures also run
BARcelona
and
Bocci Bar
on the very same block as Coastal Bistro & Bar.
The turnaround is taking place very quickly. When Gut Check called Coastal Bistro & Bar this afternoon, we could barely hear
Ellen Schmitz
over the hammering. She did manage to tell us that the restaurant hopes to open this evening. Also, she said a few dishes from Mosaic Bistro Market will remain on the new menu, including the mushroom ravioli and the roast chicken.
We'll have more on the new restaurant once they have a chance to finish hammering.