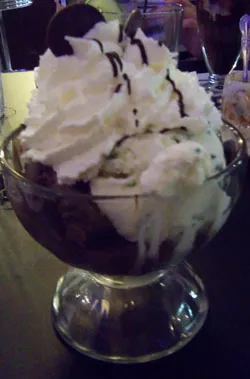 On a hot summer's night, Gut Check ventured out to an old favorite: The Fountain On Locust (3037 Locust; 314-535-7800). The occasion was a friend's birthday, but any excuse would suffice to sample one of The Fountain's delectable old fashioned sundaes, crafted with fresh ice cream and sinful toppings. All of The Fountain's sundaes are served in vintage ice cream glasses, along with a silver spoon and a napkin. The ice cream itself comes from Cedar Crest Ice Cream, a family-run business located in Wisconsin, America's Dairy Heartland. The Fountain stays true to tradition, both in their product and presentation.
After having sampled much of The Fountain's dessert fare, we can safely say that Three Coins in the Fountain wins the sundae prize. The name, alluding to making three wishes, promises you an ice-cream experience beyond your wildest dreams. The sundae is composed of three large scoops of ice cream, including Zanzibar chocolate, vanilla deluxe and after-dinner mint, the most refreshing and potent of the three flavors.
The dark chocolate ice cream balances the sweeter vanilla, and the after-dinner mint contains emerald green flecks of mint, contrasting nicely with the creamier chocolate and vanilla scoops. Mix the three flavors together, and you'll feel like you're eating a peppermint patty. The ice cream is topped with a slathering of gooey hot fudge, along with a generous helping of fresh whipped cream and three chocolate coins on top: the wishes in the proverbial fountain. We polished off the coins first, and delved under the mountain of whipped cream to reach the sundae's real treasure: the ice cream. Three Coins in the Fountain is large enough to share between two or three people. But does anyone really share their allotted three wishes? We didn't think so.
Beginning last year, RFT restaurant critic Ian Froeb counted down -- in no particular order -- 100 of his favorite dishes in St. Louis. Now Gut Check has taken up where he left off. Check back frequently as we detail our 100 favorites, and don't hesitate to send us yours, too, either via the comments thread or at tips@riverfronttimes.com.
Previously:
#65: Pan-Fried Noodles at Pho Grand #66: Pastelitos at Fritanga # 67: Bento Box at Blue Ocean Sushi # 68: Lamb Burger at The Scottish Arms #69: Crispy Pork Spring Rolls at Bobo Noodle House
#70: Turkey Melt and Field Greens Salad at Schlafly Bottleworks #71: The Vegetarian Platter at Ranoush #72: Vegetarian Meatballs at Lucas Park Grille #73: Sizzling Rice Soup at Hunan and Peking Garden #74: Straw and Hay Pasta at Trattoria Marcella #75: Spaghetti Pomodoro at Babbo's Spaghetteria #76: Shrimp Fajitas at El Matador #77: Vegetable Quesadilla at Chava's #78: Companion Rustic Olive Bread #79: Salt and Pepper Shrimp from Wei Hong #80: Ba-Mee Mhoo Dang at Basil Spice #81: Catfish Platter at the Gumbo Shop #82: Shrimp & Andouille Flatbread at the Shaved Duck #83: Vegetarian Pasta at Terrene #84: Seafood Stuffed Mushrooms at Zia's #85: Legend Club at LeGrand's Market & Catering #86: City Coffeehouse & Crêperie's Nutella-Banana Crêpe #87: Raw Vegetable Lasagna at Scape #88: Quesadilla Azteca from Tower Tacos #89: The Perfect Pear at Foundation Grounds #90: Banh Mi Sandwich from Sweet Art #91: Chicken and Dumplings at Yummies Soul Food Cafe #92: Cuban Sandwich from La Tropicana #93: The Prosperity at Ruma's Deli #94: Cherry Cheese Danish from Missouri Baking Company #95: Bread Pudding with Whiskey Sauce at Ruth's Chris Steakhouse #96: Egg Salad Sandwich at Township Grocer #97: Cheeseburger and Fries (Extra Crispy) at O'Connell's Pub #98 Mussels & Fries at Brasserie by Niche #99: Beef Taquitos Mexicanos at El Indio #100: Spinach Artichoke Dip at Cafe Eau