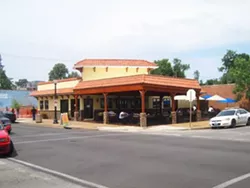 Ian Froeb
New digs for La Vallesana on Cherokee Street
There are busy months for restaurant news, and then there is August 2011. The month that just ended featured numerous openings as well as a couple of relocations,
a new building for Gut Check favorite La Vallesana
and
a contentious change of name and menu for Bridge & Tunnel Pizza
.
Closings, on the other hand, were few -- and of the five closings listed, three have reopened or will reopen as a new venture.
As always, let us know in the comments of any openings or closings that we missed.
Openings
Chea+ters Sports Grill & Ultrapub
(3818 Laclede Street; 314-652-3818)
Dough to Door
(567A Melville Avenue, 314-932-7999)
Il Posto Pizzeria
(1131 Washington Avenue; 314-621-2400)
Lester's Sports Bar & Grill
(4651 Maryland Avenue; 314-932-6040)
[additional location]
Liluma Side Door
(238 North Euclid Avenue; 314-361-7771)
Max & Erma's
(315 St. Square Clair, Fairview Heights, Illinois; 618-628-0600) [additional location]
Smiles Coffeehouse
(3453 Hampton Avenue; 314-802-8919)
Tavern of Fine Arts
(313 Belt Avenue; 314-367-7549)
The Tuscan Tavern & Grill
(5800 Southwest Avenue; 314-932-1144)
Reopenings
The Fox & Hounds Tavern
(6300 Clayton Road; 314-647-7300)
La Vallesana
(2801 Cherokee Street; 314-776-4223)
Relocated
Reynolds Roadhouse
(3150 Elm Point Industrial Drive, St. Charles; 636-946-6119)
Taqueria el Bronco
(2817 Cherokee Street; 314-762-0691)
Relocated & Reopened
Nosh
(1135 Big Bend Boulevard, Richmond Heights; 314-781-2345)
Closings
Amigo Joe's Chicken
(5901 Southwest Avenue)
*
Blue Nile Market & Cafe
(8615 Olive Boulevard, University City)
Bridge & Tunnel Pizza
(1131 Washington Avenue)
Jade Restaurant & Lounge
(910 Olive Street)
The Wicked Lady Pub
(4534 Gravois Avenue)* - Reported in August; restaurant closed in a prior month.