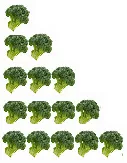 The Veggielante has had it up to here with people bitching that St. Louis restaurants are vegetarian unfriendly. Sure, we'd like to see more restaurants offering more meatless dishes, but there are excellent choices out there if you take the trouble to look for them. We're not here to proselytize about greening up your diet. Our only motive is to spread the word about places where you can order good grub that ain't got no meat. To enhance your reading experience, we've settled on a handful of criteria we'll use to suss out a restaurant's vegetarian friendliness.
Bryan Peters
Sanctuaria's Phyllo Cigars
Destination: Sanctuaria (4198 Manchester Avenue; 314-535-9700)
Neighborhood: Forest Park Southeast
Overview: By now, most folks have heard about Sanctuaria's sublime cocktails, but what of the food? As exemplary as the mixed booze? Maybe not, but chef Christopher Lee is no slouch, either. In fact, he's got the chops to handle all your vegetarian tapas cravings, including delicately pan-seared phyllo cigars and vibrant fruit salads.
The Grub: We were hungry for rich food on this visit, so most of our tapas were on the heavy side: piquillo poppers stuffed with a goat cheese blend and served with a side of a spicy green "devil" sauce, blue cheese and leek fondue cabrales cigars, Monterey jack and guava empanadas and jalapeno cornbread. One needn't order so much cheesy decadence, as there are certainly lighter options available (the "quinoa a la docs mom," for example). Still, the majority of the veg options--and there are many!--err on the gutbuster side. But the complexity of flavors and diversity of vegetarian options are compelling enough to keep even the most tapas-fatigued diners interested.
Bryan Peters
The cornbread you've been dreaming of.
Seasonality/sourcing: Whether Lee uses produce from Sanctuaria's gardens or from Illinois and Missouri farmers, he's doing his best to serve the freshest veggies around. The menu even features a "locavore" option, which changes weekly based on seasonal and local availability.
Resistance to clichés (vegetable medleys, pre-made veggie burgers, etc.): You won't find a veggie paella here, but there are a few standards we'd rather not have seen (we're talking about you, stuffed eggplant and fried plantains). But there are interesting reinterpretations to be found, and the kitchen has a knack for unique sauces. The homemade habanero sauce is probably the hottest in town.
Improvisations & accommodations (vegan, gluten-free, etc.): We were impressed by the balanced menu, which features around fifteen vegetarian items at any given time. Still, we'd like to see a few more options on the lighter side.
Overall score:
Extra credit: A dedicated vegetarian fryer.
Standout item: Jalapeno cornbread.