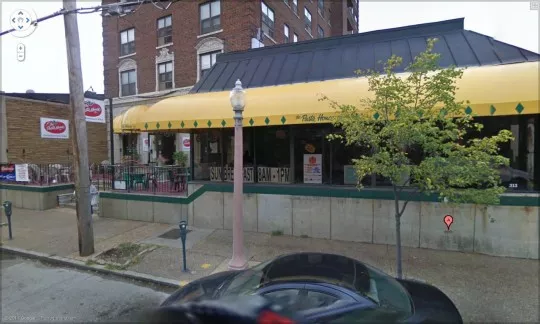 This spot on Euclid won't be home to your friendly neighborhood frat boys after all.
Looks like the Central West End won't be getting another frat-tastic bar after all -- not any time soon, anyway.

Today the St. Louis Post-Dispatch reports that Brothers Bar & Grill, the Wisconsin-based company that hoped to open a new franchise in the spot at Euclid and Maryland avenues formerly operated by the Pasta House Co., has soured on the location. The Brothers' corporate people still won't return our calls, so we'll have to take the P-D's word for it.

But we can give you a little bit of the back-story. Gut Check has learned that opposition from another landlord may have helped scuttle Brothers' plan -- the same landlord who was thwarted in his efforts to bring a Fado Irish pub to a spot just a few doors down on Euclid.

Rothschild Development (which also operates under the brand name of Red Brick Management) is a key stakeholder in the Central West End. The company owns a huge chunk of Euclid Avenue -- making it the landlord to a number of restaurants. City records show that Pete Rothschild filed paperwork to lead an effort opposing the Brothers Bar & Grill plan.

More than a year ago, Rothschild's company had hoped to bring a franchise of the Irish bar Fado to 325 North Euclid, which is just a stone's throw from the site Brothers was looking at. Neighborhood opposition scuttled the plan, and, instead, a low-key Middle Eastern cafe and hookah bar, the Central Cafe and Bakery, opened on site.

Rothschild referred to that incident in explaining his opposition to the Brothers' plan. In an e-mail to Gut Check, he writes,


"I speak only for myself and I'm certainly not a spokesman for the entire neighborhood, although a number of people are opposed to the license. The owners met with neighborhood leaders, including the Alderwoman and the Chairman of the local SBD. Everyone in attendance opposed, but only opposed this location. As we looked into Brother's I learned that it's primarily a college bar and that each of its current locations are in college towns. The owners are extremely successful and from what I am told, honorable, hardworking people. The consensus is that they would be an excellent addition to the St. Louis bar options, but that due to a number of reasons the Central West End would not be a suitable location for them...

A couple of years ago Fado, an Irish Pub, wanted to locate in the building I own at 325 N. Euclid but they were vehemently opposed by the neighbors. I think they would have been great for the neighborhood and a much better fit than Brother's.
Although Brothers has yet to formally withdraw its application for a liquor license, Rothschild says that other businesses are now looking at the site. He believes one may even be in negotiations with the landlord. "I have no idea whether this tenant will be able to get the signatures for a liquor license or not, but I would be in favor," he writes.
We reached out to both Alderwoman Lyda Krewson and Kohner Properties, which owns 313 N. Euclid. We'll update this post if we hear back.