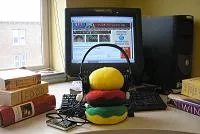 Gut Check dishes on our favorite St. Louis food blogs.
Family Style Food: Karen shared her recipe for homemade granola with pistachios and pumpkin seeds.
Relish: Schlafly's first fall draught will be its Porter.
Iron Stef: Stef made miso salmon with daikon slaw.
STL Hops: Schlafly's Hop in the City returns this year on September 17.
STL Bites: Bill paid a visit to Mario's Pizza.
Cupcake Project: Stef made peanut butter cookie dough icing.
One Hot Stove: Nupur hosted an ice cream social.