Even Gut Check is limited on how much we can eat in one weekend, so we had to plan our attack on the Nosh Pit at LouFest with much precision and thought. Some vendors - Pi, Mangia Mobile, Nora's, Pappy's Smokehouse - had great food, but nothing too different from their usual offerings. Hopefully festival-goers who haven't tried their wares were introduced to some of St. Louis' best food offerings.
Hard as it was, we avoided our beloved favorites and went in search of LouFest-only treats and debuts.
Buck's Good Eats, a food stand that sets up on the corner of Forest Park Parkway and Vandeventer, had the best surprise with their family-size bacon cheese fries.
Robin Wheeler
Buck's Good Eats bacon cheese fries
The crinkle-cut fries weren't unusual, but they were fresh and crispy. The cheese? Spicy standard nacho cheese. But the bacon - that was the thrill. They kept a pan of it, also fresh and crispy, on the grill. When crumbled on top of the fries and cheese, it was still warm and crisp.
Kaldi's served the most unusual pick-me-up with their Loufest Lemonade - a blend of toddy-brewed iced coffee, lemonade and mint.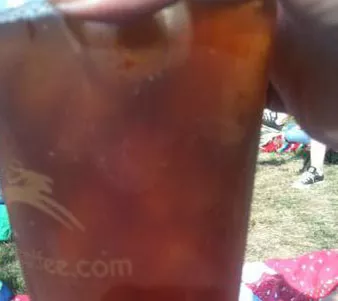 Robin Wheeler
Kaldi's Loufest lemonade
Before you say, "Ewww!", keep in mind toddy coffee lacks much of the acidity and bitterness of other brews. With a bright, clean brew, the lemonade tasted reminiscent of an Arnold Palmer, but with a deeper flavor and a bigger caffeine boost.
Our favorite return item had to be the brisket parfait from Hwy. 61 Roadhouse and Kitchen.
Robin Wheeler
Hwy. 61 Roadhouse & Kitchen brisket parfait
The smoked brisket base is as close to famed Kansas City burnt ends as you'll get in St. Louis. They're topped with a creamy slaw, then spicy beans and a flaming hot pickle spear.
Cha Cha Chow's got the street food thing down-pat, but they got us hoping for a new regular menu addition with their crispy chicken walking taco.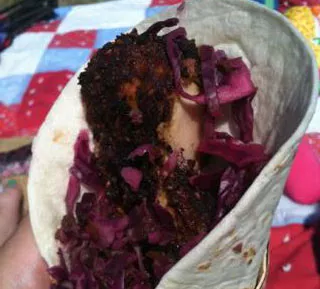 Robin Wheeler
Cha Cha Chow's crispy chicken walking taco
This wasn't fried chicken and cheese thrown into a bag of Fritos. Instead, Cha Cha Chow rolled a flour tortilla and placed it in a paper cone, then filled it with strips of sesame-breaded fried chicken breast strips, jalapeno-lime red cabbage slaw, and a swirl of their creamy, peppery Cha Cha Sauce. If the Nosh Pit was a competition - and it wasn't because there were plenty of diverse quality meals of all appetites and eating proclivities - Entre would have won. The ever-expanding underground dining experience has a catering trailer and knows how to use it. Entre brought plates of twice-fried skinny French fries into the crowd for people to sample. The fries were good, but whats even better? Poutine? Fries topped with a light gravy and soft chunks of tangy cheese.
Robin Wheeler
Entre's poutine
While eating the Canadian classic during the heat of the day might not have been our smartest food decision of the weekend, we couldn't resist. What's a little overstuffed heat grogginess when amped-up poutine is concerned? We got an order to go at the end of Sunday night, just to make the poutine magic last.
Fries beg for burgers, and Entre didn't disappoint with their 80-20 burger.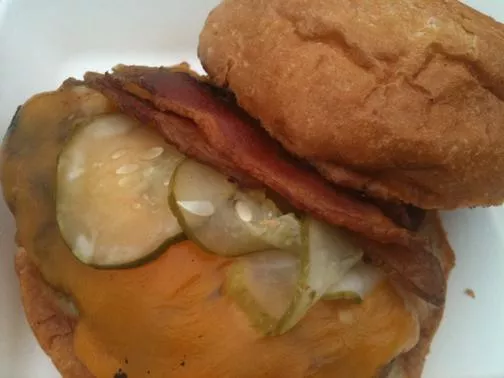 Robin Wheeler
Entre's 80-20 burger
That's 80 percent ground beef and 20 percent ground bacon, topped with sharp cheddar, pickles and two more strips of bacon, piled on a Companion bakery roll. While it might sound like a potentially greasy mess, the ground bacon rendered just right, leaving a hint of smokiness and a juiciness that alludes most grilled burgers.
They also had bahn mi sandwiches with chicken liver pate, and some beautiful Thai chicken salads, but alas, we can only eat so much in two days. We hope TV on the Radio, who ordered Entre for their post-show meal at the end of Sunday night, ate what we couldn't. We know they enjoyed some Farm Fresh Cupcakes.