The Veggielante has had it up to here with people bitching that St. Louis restaurants are vegetarian unfriendly. Sure, we'd like to see more restaurants offering more meatless dishes, but there are excellent choices out there if you take the trouble to look for them. We're not here to proselytize about greening up your diet. Our only motive is to spread the word about places where you can order good grub that ain't got no meat. To enhance your reading experience, we've settled on a handful of criteria we'll use to suss out a restaurant's vegetarian friendliness.
Destination: Stone Soup Cottage (5525 Oak Street, Cottleville; 636-244-2233).
Neighborhood: St. Charles.
Overview: Been saving up for a special occasion? Ready to reward yourself with a vegetarian extravaganza of epic proportions? Want the Will and Kate treatment? Look no further than Stone Soup Cottage. And don't let the drive to St. Charles nor the months-long reservation list discourage you. Stone Soup is the real deal, and it's worth dealing with some minor inconveniences when the payoff is six courses of vegetarian heaven.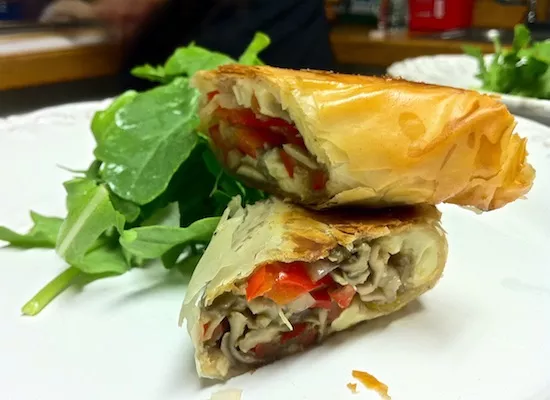 Bryan Peters
Stone Soup's Veggie Strudel
The Grub: Much has been written about Stone Soup's digs, as well as the textbook-perfect service, but it's the food that ultimately justifies the lofty price tag. Boy, is it worth it. From the local white corn bisque to the vegetable strudel, the meal hit on all cylinders, transporting us to a place far, far away from the ordinary. Even common dishes like pappardelle are elevated here: McConnell makes the noodles in house, dresses them with brown butter and fried sage and then tops them off with a parmesan tuile. Stunning. All of it stunning.
Bryan Peters
The secret's in the sauce and the tuile.
Seasonality/sourcing: Chef McConnell is so committed to seasonal and local ingredients that he often gets out in the fields himself. Whether he's foraging for local mushrooms or talking shop with his neighboring farmers, McConnell seems always concerned with finding the freshest, most interesting produce available.

Resistance to clichés (vegetable medleys, pre-made veggie burgers, etc.): Though there were a couple of relatively ordinary offerings -- the caprese salad, for example -- nearly everything else was inventive and carefully executed.
Improvisations & accommodations (vegan, gluten-free, etc.): For vegetarians, McConnell takes special pains to provide creative alternatives to standard proteins. He doesn't just leave out the protein and add a handful of green beans; he actually whips up entirely new components. The result is the feeling that McConnell cares deeply about all of his diners, and he's not happy unless they are.
Extra credit: Exemplary service.
Overall score:
Standout item: Vegetable strudel with Heirloom Coulis.