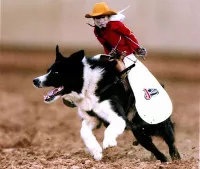 Whiplash the Cowboy Monkey left the glamorous world of food mascots to follow his real passion -- the rodeo.
The King is dead. Long live the king.
This week Burger King retired its terrifying, plasticine mascot who's kept potential diners away from Burger King restaurants for the better part of a decade. Burger King wants your mom's business, and The King isn't doing it for her.
Honestly? Is anyone going to miss horror nuggets like this?
The King's retirement comes on the heels of news that cartoon characters on food packages make kids nag their moms for junk food. Although we call this "news" in the lightest sense of the word because we all remember whining for Frosted Flakes just because of Tony the Tiger. Or pleading to not go to McDonald's because of a debilitating anxiety disorder caused by untreated coulrophobia.
This has us thinking about food mascots that have gone to the great pre-packaged graveyard.
The Frito Bandito Aye aye aye aye, indeed. Frito-Lay retired its animated Mexican stereotype in 1971, thanks to a House subcommittee hearing on ethnic defamation in broadcast media. He's not missed.
Willy the Hillbilly Mountain Dew wasn't always marketed as the drink of extreme athletes. Their original caffeine pusher was Willy the Hillbilly, who equated the soda with moonshine.
The Noid What's more annoying than bad pizza? The Noid, Domino's Pizza's early-'90s animated personification of irritation.
Hamburglar Because what better way to influence young children than with a criminal? Fresh-Up Freddie This bird's job was to convince people to drink 7-Up when stuck in difficult situations. Like old west gunfights.
Sugar Bear We need more people in anthropomorphic bear costumes, selling boxes of cereal that are over fifty percent sugar.
Whiplash, the Cowboy Monkey Next time someone bitches about St. Louis' lack of Taco John's, command your dog-riding cowboy monkey to fling a burrito at him. Taco John's retired the monkey in 2008 so he could resume his rodeo career. No, we're not joking.
Oven Mitt When the kitchen tools start talking to you, it's time to stop sniffing Horsey Sauce.