Let's start in...the past. Sophie's a dance instructor who can't really dance. She lives in an apartment with her boyfriend of four years, Jason. Their states of profound boredom are shaken when the pair decides to adopt Paw-Paw, an injured cat who can't come home with them for 30 days. A deep neurosis sets in as Jason and Sophie realize they'll spend what's left of their youth encumbered by a creature who needs them. They decide to spend the next 30 days living more deliberately, which translates into quitting jobs, canceling Internet service, selling trees and halfheartedly committing to dancing 30 dances in 30 days.
In a sense, you get what you'd expect: a quirky indie flick with many delightfully awkward moments and a narrating cat. Beneath the quirk, July taps into the anxiety of our culture, specifically that of the 25-35 demographic. Sophie abandons her life, full of hours spent online watching videos of others doing what she wishes she had the ambition and courage to do, an unfulfilling job and a loving-but-dull relationship, for what? A loveless and inexplicable affair with a man twice her age who feeds her ice cream for dinner? Perhaps the reason it's so easy to loathe and point the finger at Sophie is because of her relatability. We seek solace in fictional characters we relate to, or more specifically, who we want to relate to. She represents the lethargic complacency that comes with being a 21st-century American -- something many of us are aware of, most of us loathe and few successfully escape.
Miranda July teaches how to dispel distractions.
What's interesting about this film is July's use of coincidence, vignettes of everyday life, time travel (as well as the perspective of a cat who can't comprehend time) and, essentially, magic to create a story that's at once dreamlike and hyper-real. It's nearly impossible and completely unnecessary to describe the plot, as there wasn't much of one, but really, there doesn't need to be. Perhaps the best way to explain the Future is to say that it's a more developed version of "The Hallway," one of July's art installations. Life's a trip down a hallway: simple, nondescript. It's over before you've even realized it's begun, and you're not quite sure how you got to wherever you are, but you made a left or a right turn here or there, or maybe you just stood still. In short, this movie is quite a bit darker and less hopeful than Me and You and Everyone We Know. Things are a bit uncertain in the Future.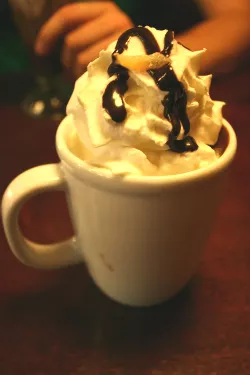 Chrissy Wilmes
There's an extra half hour on the elliptical in our future.
We're guilty of 21st-century lethargy as much as Sophie. In fact, the film left us in such a state that we could only be brought back to the present with the cold, sugary shock of ice cream for dinner.
The Fountain on Locust (3037 Locust Street; 314-535-7800) was the perfect place to go after an evening filled with dark contemplation of what the future might hold and boredom with the present. The art-deco interior and homemade ice cream evokes a much simpler time.
We drowned our angst in a Chocolate Brownie Cake in a Cup. The brownie was warm, soft, nutty; the hot fudge was thick, sticky, delectable; the vanilla ice cream smooth, rich. Perhaps the best part of the treat was the Fountain's exceptional homemade whipped cream, a tall fluffy mound of which topped the cup. The sweet indulgence makes it easy to shed all thoughts of the foreboding future, if only for a few moments. Is it better to resort to sugar than to be driven to drink? We're not sure. But either way, the Fountain has you covered.