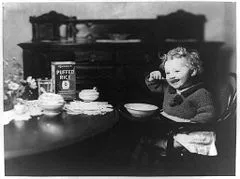 Wikimedia Commons
Eat up, Kiddo. Things aren't going to get better than this.
It's not a great time to be a kid with taste buds and nutritional needs. While childhood food problems aren't quite to the Dickensian "Can I have some more?" levels of Victorian England, America's not doing a great job when it comes to feeding our kids.
And we're not even talking about Hot Sauce Mom. We'll get to that bitch later this week.
If your kid isn't illiterate, she might get her hands on a new book by Paul M. Kramer, a self-published writer who has no professional experience with childhood health issues, or even a grasp on how loaded the word "diet" is in the contemporary vernacular. He didn't let that stop him from writing Maggie Goes on a Diet, the rhymed tale of a fat teen who goes on a diet and suddenly finds popularity and happiness.
While we can support Kramer's advice on not subsisting on junk food and getting some exercise, it seems a bit odd for this guy to be telling his readers - ages 6 to 12 - "Losing the weight was not only good for Maggie's health, Maggie was so much happier and was also very proud of herself."
Good thing Mark Bittman's got a whole army prepared to battle childhood fat.
Actually, it's not Bittman; he's just reporting about Food Corps, a "national service program that aims to improve nutrition education for children, develop school gardening projects and change what's being served on school lunch trays."
Sounds pretty good, really. So why all the war imagery? Bittman refers to Food Corps' young volunteers as "50 new foot soldiers in the war against ignorance in food."
Because your kid's adipose tissue, a product of your stupidity, is such a threat it's going to take an army to conquer it!
Scaring people into eating right doesn't work. Never has. Probably never will.
And then there are those who don't have enough to eat. Today ABC News is dedicating their news programing to hunger issues, reporting that 1 in 5 children are poor:
Perhaps this is where the soldiers are really needed.