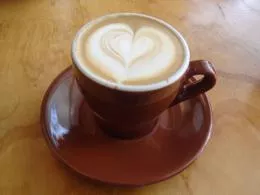 Wikimedia Commons
No love with this latte.
The New York Post isn't known for correctly reporting the news, and they definitely got something wrong this week when it comes to engaging in questionable relations in restaurants:
Ivan[*] believes urban environments like New York naturally lend themselves to les liaisons publiques. "Out in the sticks, they have haystacks and barns," he notes.
*("Ivan" didn't give his real name because he was describing a "pants optional" meal he had enjoyed in a Manhattan restaurant.)
What Ivan and others who sounded off about New York City restaurant sex don't realize is that there is plenty of restaurant sex happening out here in fly-over country.
It doesn't mean we want to see it, though.
Like last week, when Gut Check was enjoying an iced coffee beverage at an outpost of a giant coffee chain. Our favorite barista took his break, sitting in the nearby armchairs with what appeared to be his girlfriend. While we didn't hear their conversation - eavesdropping is rude (and we were wearing earbuds) - it was obvious from their facial expressions and body language that they were in love. We're talking L-U-V love.
To remove all doubt, our favorite barista's girlfriend got up from her chair, plopped onto his lap, and proceeded to eat his face while fusing herself to his lap.
When their very public rendezvous ended, he went back to work, slinging lattes. We only hope he changed his apron first.
In sharing this tale of ewww with friends, we learned that this isn't an isolated incident of local coffeehouse horniness. We heard tale of another male barista, this time in a small indie coffeehouse in another part of the St. Louis metro area, taking his break in the dining area to mack on his girlfriend in an even more explicit style than we witnessed.
Everyone loves a friendly barista. Just not that friendly. Let's keep the breaktime nookie in the restroom, storage room, car in the back of the parking lot, or behind the Dumpster. And yes, we know that grinding doesn't equal sex. But if they're grinding away in front of customer, what are they doing after hours?
While hip New Yorkers are getting foot jobs under the table, St. Louis has cornered the market on coffeehouse dry-humping ("Afternoon Get-Me-Up"? "Blowing the Mug"? "Polishing the Tamper"? "Grinding His Beans"?). It's a dubious distinction, probably related to St. Louis' high STD rates. And it makes it really hard to order a coffee with room for extra cream.