Welcome to Glutton for Nourishment, a new feature in which Gut Check descends upon area buffets in our finest drawstring sweat pants seeking the biggest bang for your buffet buck. We've offered up our waistline for you, dear reader, waddling down aisle after sneeze-guarded aisle, filling plate after plate with the mass-produced, the deep-fried, the gravy-covered, the All-'Merican.
Chrissy Wilmes
Cotton candy -- a big hit with the ten-and-under crowd.
Where: Golden Corral (1850 Zumbehl Road, St. Charles; 636-947-0999)
Price: Children age four to eight $4.39; age nine to twelve $6.49. Adults $11.19. Seniors $10.39.
Chrissy Wilmes
The first of many plates.
What you'll find: There are several different troughs at the Golden Corral. Upon entering the restaurant, there's a small island where a cashier works, pouring drinks, and a line forms on either side. At the end of this line, the cattle pay, before being herded out to graze. Bafflingly, the very first buffet line you see (and it's visible from the entrance) is a giant dessert area. Soft-serve ice cream, two types of brownies, several cakes, apple cobbler, tarts, hot fudge, caramel and -- what's this? -- giant tufts of bright blue cotton candy!
Beyond the sugar stack, there's a baked potato and taco station, complete with sweet and Irish 'taters as well as various cheeses, sour cream, taco shells and beef. There's a bread station with gigantic, fluffy, buttery rolls (white and wheat) as well as some cheese biscuits that looked like they were smuggled out of the nearby Red Lobster.
There's the obligatory salad bar with dozens of toppings and a few creamy dressings, as well as cantaloupe and watermelon slices, cottage cheese and some sad-lookin' strawberries.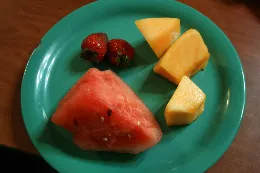 Chrissy Wilmes
Skip the salad and go straight for the melons.
Yet another buffet line is home to four different types of rice pilaf (!) and various side dishes reminiscent of Thanksgiving. (We're looking at you, candied sweet potatoes and green-bean casserole.) And last, but most definitely not least, we move on to the section with a line so long it bleeds into all the other lines, blocking the walkways as it blocks arteries: This is where you'll find fried chicken, fried catfish, mashed potatoes, two types of gravy, mac & cheese, French fries, pizza, shrimp (pan-seared at your request) and that veritable El Dorado of Golden Corral: steak, cooked to order.
This, friends, is the line so many folks drop eleven bucks for.
Eat this: The pan-seared shrimp are frickin' delectable. We gobbled ours with a bit of cooked spinach -- simple but satisfying. Them fluffy rolls nearly melt in your mouth; topped with "honey butter" (er, sugar margarine?), they're pure, sweet carby indulgence. Our medium-rare steak was just what we came for: juicy, tender, pink, but not bloody, and rich in flavor.
Avoid these: We took one bite of the stuffing before turning our nose up at it. It was cold, and we couldn't taste much beyond the bread. The salad bar should be avoided altogether: The choice of dressings is disappointing, and the toppings didn't look particularly fresh. Plus, you're at an all-you-can-eat buffet. Don't pretend you're here for the salad.
Atmosphere: Buffets aren't supposed to be upscale, but dining at Golden Corral can be a stressful experience. Toddling off to fill our plate, we melted into a mass of Middle America so dense that it felt claustrophobic. Such close quarters aren't the most appetizing setting when you're preparing to stuff your face. (Personal to the little girl carrying a plate of macaroni: Sorry about that!)
Verdict: Despite the scattered misses, the Corral offers enough hits to please nearly anyone not on a strict diet. The cotton candy, especially, is a huge hit with the children. And for grownups, the steak alone is worth the trip and the price tag.
Of course, if you're not in the mood for cow or you don't eat meat, your dinner's best lassoed elsewhere. And whatever you do, don't go at 5:30 on a Saturday night.