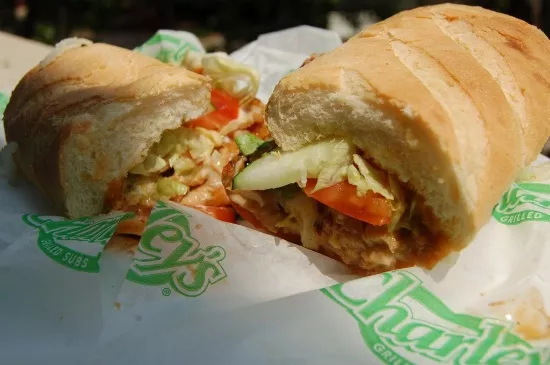 Jared might want to warn his fellow Subway fans that another sandwich challenger has entered the ring. Charley's just debuted its new but short-lived Spicy Asian BBQ Chicken sandwich, and having just spent an afternoon munching on this new Korean-inspired sammi and an order of thick-cut French fries, we give it three thumbs up.
Of course, Subway's Sweet Onion Chicken Teriyaki sandwich probably wins the match, but it's hard to compete with Charley's new barbecue sensation. This hot mess of a sandwich is layered with lettuce, tomatoes, a sweet-and-spicy Korean barbecue sauce and a hefty serving of grilled chicken smothered in white American cheese.
It might not be the prettiest thing to look at, but what it lacks in style, it makes up for in taste. At first, we were a little skeptical about Korean barbecue. Being from the Midwest, we're pretty happy with our Gates BBQ Sauce, but it turns out Korean barbecue is all the rage right now. Cook-offs in L.A. featuring just Korean barbecue brought more than 8,000 people in one day.
Those following our failed attempts at a few spicy eating competitions know our aversion to all things hot, so we were surprised to find that this version of spicy barbecue was not so spicy. Instead, it was a scrumptious balance of sweet and spicy. The sweet barbecue sauce filled out nicely with the coolness of the cucumbers and lettuce, but the heat of the sauce stayed on our tongue well after that first bite.