This is part two of Chrissy Wilmes' Chef's Choice profile of chef Mike Johnson of Cyrano's and Boogaloo. Part one can be found here. Part three, a recipe from Johnson, can be found here.
Did your family cook when you were a child? Not a lot. We ordered out, or I ended up cooking.
How old were you when you started cooking? About twelve at home, fifteen in restaurants
First cooking job? Al Baker's in Clayton
Did you attend culinary school or college? Yes, New England Culinary Institute in Vermont
What do you eat? I've been vegetarian the last couple years but started eating some meat again recently since I got an Ole Hickory smoker at Boogaloo. So, I'm about 80 percent veggie and 20 percent meat.
What do you cook at home? Mostly just breakfast and lunch for the kids
What are your three favorite restaurants in St. Louis (besides your own!)? Fozzie's sandwich shop in Richmond Heights, the Mud House, Roxane in Clayton
The local chef who most impresses you? Chris Bork from Blood and Sand and formerly of the Mud House
Your favorite restaurant elsewhere? I like the Green Zebra in Chicago a lot.
Your favorite food city? Barcelona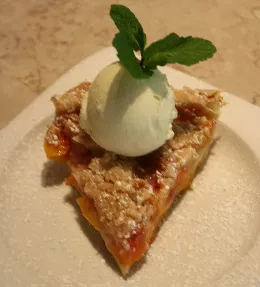 Chrissy Wilmes
A slice of peach pie from Cyrano's award-winning dessert menu.
Favorite recent food find? Hawaiian white honey
Most essential ingredient in your kitchen? Cajun spice
One food you dislike. Raw onions
A food you can't live without. Hummus
Culinarily speaking, St. Louis needs more... vegetarian restaurants.
Favorite after-work hangout. Schlafly
Favorite kitchen tool. Japanese mandolin
What's next for you? Working on a couple consulting projects, plus a small smoked foods outlet
What inspires you? My kids
Chefs who inspire you. I like Guy Fieri on the Food Network. I'm not sure how good of a chef he is, but I like his passion and enthusiasm.
Favorite cookbooks? Not Just Another Cookbook by Daniel Joly
Favorite music to have in the kitchen. The Clash
What's on your pizza? Mushrooms, goat cheese, arugula, truffle oil
What's in your omelet? Mushrooms, peppers, American cheese
What are you drinking? Sailor Jerry Rum
What's the most surprising food you've eaten? Gooey butter cake. It sounds so creepy but is so good.
What's the most difficult lesson you've learned in this business? Friends don't usually make the best coworkers.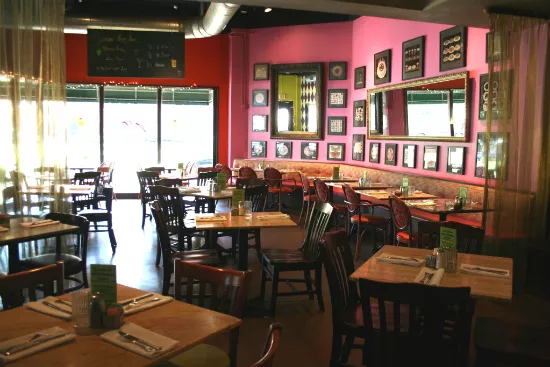 Chrissy WIlmes
The tone at Cyrano's is nothing short of festive.
______________________________________________________
Related Content
Mike Johnson of Cyrano's, Boogaloo Mike Johnson of Cyrano's, Boogaloo: Recipe for Webster Groves Farmers' Market Beet Salad with Truffled Goat Cheese.