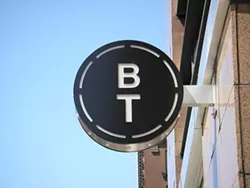 New name, menu for Bridge & Tunnel Pizza
Bridge & Tunnel Pizza
(1131 Washington Avenue; 314-621-2400)
is now
Il Posto Pizzeria
. Assistant manager
Nick Smith
tells Gut Check that new manager
Franco Bongiovani
is the driving force behind the changes, which go beyond the name.
"We have changed styles," Smith explains. Instead of the New York-style pies that Bridge & Tunnel Pizza served, Il Posto will have "more of a St. Louis style" with a thin crust and Provel cheese.
Smith stresses that Bongiovani has brought a personal touch to the new menu. He grinds his own ground beef and sausages, and the pizza sauce features his special seasonings.
"It's not your traditional pizza sauce," says Smith.
Il Posto's menu also includes sandwiches, pasta and salads. The restaurant's phone number remains the same.
(h/t: @UrbanReviewStl)