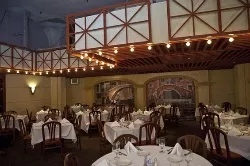 Laura Miller
Filippo's Italian Kitchen and Bar will have a larger bar area than its downtown counterpart, pictured here.
Joe Sanfilippo, who owns and operates J.F. Sanfilippo's in downtown St. Louis, has just announced plans to open a new venture. This time, the Italian restaurant owner has his sights set on the Valley, at 120 Chesterfield Valley Drive, where Tribeca Lounge used to be located.
With Sanfilippo as chef, Filippo's Italian Kitchen and Bar is scheduled to make its debut on the restaurant scene sometime in October. Sanfilippo says that J.F. Sanfilippo's has many fans who live farther west, in places such as Wentzville, St. Charles and Chesterfield, and can't make it to the restaurant as often, so the new location was conceived to be more convenient for them.
With a smaller menu, the kitchen and bar's focus will be to highlight the downtown location's most popular dishes and be more of a presence on the nightlife scene with occasional live music. The bar is bigger than its downtown counterpart, and Sanfilippo describes it as a "Wash Ave. look in the Valley," with 3,300 square feet of high ceilings and concrete floors.
As for the food, popular dishes that will make an appearance are the Rigatoni Giuseppe with tomato and vodka cream sauce, Chilean sea bass, beef tenderloin and the Gamberi Bianco, jumbo shrimp in a Cajun brandy cream sauce. The restaurant will also serve daily specials that will most likely be different from the downtown location's menu, though they haven't yet been finalized.