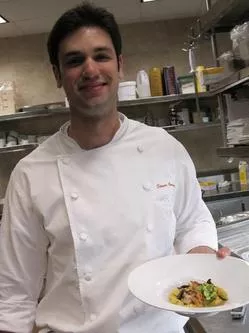 Robin Wheeler
Steven Caravelli is headed to Pi Pizzeria.
Pi Pizzeria
this week announced a change at the top of its culinary team:
Steven Caravelli
, formerly the executive chef of
Sleek
and
Araka
as well as a brief stint at
The Mud House
, is taking over for
Marc Baltes
, who is leaving St. Louis for San Francisco.
"Marc's departure is very bittersweet for us," owner Chris Sommers tells Gut Check via e-mail.
"While we're thrilled for his new opportunities in the Bay Area, he has been instrumental in our success and growth.
"Marc joined us right before we opened
our Kirkwood location
, and truly saved our ass there! He was a rockstar, only to repeat that performance six weeks later in opening
our CWE location
."
Since then, Pi has rolled out a carryout-only location in Chesterfield and food trucks here and in Washington, D.C. Downtown St. Louis and D.C. locations are currently in the works.
Alejandra Owens
Pi's D.C. location under construction earlier this year
Baltes has played a key role in D.C., Sommers explains, "He has also expanded our menu...and positioned us for a strong opening there, with frequent trips there over the past several months."
Sommers calls Caravelli a "welcome addition to our team," noting his work with both top chefs and mom-and-pop operations.
"We're also very excited for the new creativity he will breathe into our menus, which our guests deserve," adds Sommers. "We fully expect Steven to add some great new items to our menus."
Sommers notes that Caravelli will work to boost Pi's use of seasonal and local ingredients.