In this series, food and drink professionals dish to Gut Check about their pet peeves anonymously -- but honestly.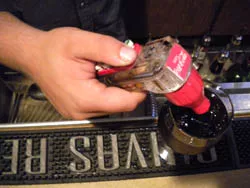 Gut Check Code Name: The Viking
Position: Recently promoted to full-time bartender at a family-friendly restaurant on The Hill.
Pet Peeve #1 The Viking: Weird complaints. This guy actually called up to complain that his pizza was too hot.
Pet Peeve #2 Kids at the bar. I get that you (parents) want to corral your kids while you wait for a table, but they just drink water, and the barstools are like a waiter's tables. If you're not ordering anything from me, you're taking money away from me.
Pet Peeve #3 People that want you to sing "Happy Birthday." I don't know you; I'm not your friend. Get your friends to sing "Happy Birthday" to you. I'm not going to sing "Happy Birthday" to you because I want you to come back.
Got a pet peeve to share with Mind Your Fucking Manners? E-mail tips@riverfronttimes.com.