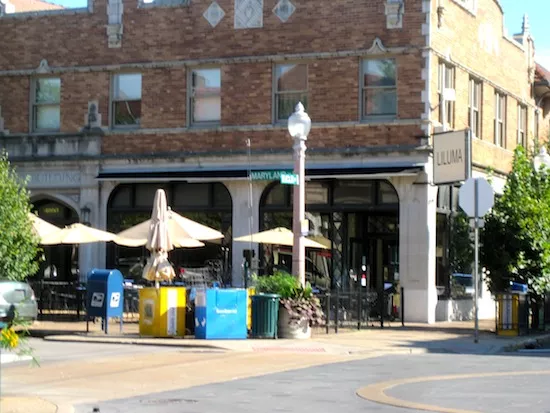 Jim Fiala
has announced plans to transform the back room of his Central West End restaurant
Liluma
(238 North Euclid Avenue; 314-361-7771)
into a new, casual space called
Liluma Side Door
. The restaurant will debut on Thursday, August 18.
Fiala traces the inspiration for Liluma Side Door to a conversation with
Gerard Craft
of
Niche
. After a restaurant has been open for a few years, Craft told him, they "need a little facelift, need to be kept fresh."
"I've been getting good responses from people going to Liluma," says Fiala. Still, he adds, "It could use something fresh. There hasn't been a lot of fresh stuff lately."
In May, Fiala traveled to Italy. During his visit, he hoped to dine at
Il Cibreo
, where an old friend of his from his time at
Daniel
in New York City now works. He ended up at Il Cibreo's trattoria.
"All it is is a room: twenty seats, a couple servers," Fiala explains. "I liked the concept. They were just doing amazing simple, but flavorful, food.
"It was really casual. The perfect place to go when you don't want to eat a big meal. I came back [to St. Louis]. Looking at Liluma's back room, it clicked."
Fiala's restaurants --
The Crossing
,
Acero
and
The Terrace View
as well as Liluma -- are known for French and Italian technique. At Liluma Side Door, Fiala and Liluma chef
Brad Watts
will apply those techniques to classic American dishes. The intention, Fiala makes clear, is to have fun.
As an example, Fiala describes the "fried bologna": "Instead of fried bologna, we take [a slice of] mortadella, wrap it in prosciutto, fry it and [finish] it with balsamic cream. It's easy -- put a few on a plate -- and delicious."
This dish is one of the $4 "Bites" on the
Liluma Side Door menu
. There are also "Pillows" (ravioli), each priced at $7, which come stuffed with such combinations as peas and carrots and liver and onions. Finally, there are "Snacks," $10 each, fish and chips and rice and beans among them.
Liluma will be open from 5 p.m. till close every day but Sunday. The restaurant won't accept reservations. In truth, Fiala says, it is meant to be the kind of place you "don't have to think about" but simply stop by to grab a bite (or two) to eat.