This is part one of Emily Wasserman's Chef's Choice profile of chef Elie Harir of the Mediterranean Grill. Part two, a Q&A, can be found here, and part three, a recipe from Harir, can be found here.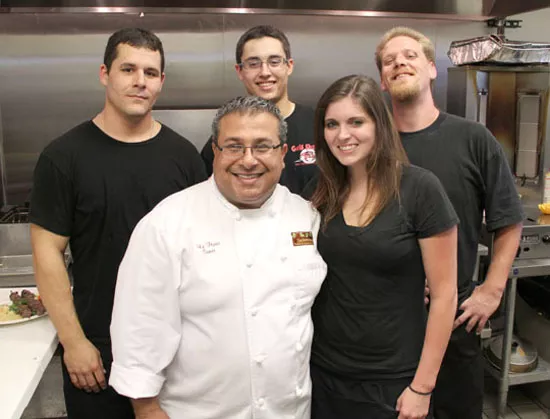 Kelly Hogan
Elie Harir with his staff
On a typical 118 degree St. Louis summer afternoon, Gut Check set off across the Chesterfield Valley to talk to Elie Harir, the owner and chef of the Mediterranean Grill (703 Long Road Crossing Drive, Chesterfield; 636-536-2101). The restaurant, located in the corner of a new strip mall, was like finding a mirage in the middle of the desert. The bright sun bounced off the glass windows, and Harir offered us a glass of water -- not to mention plates full of tabbouleh, hummus, pita and falafel. Harir's passion for his food, as well as his restaurant, is evident as he points towards a wall where some of his many awards hang framed.
"I'm trying to bring to people a different kind of cuisine. Ninety-nine percent use powder from a box. Very few make food from scratch. I'm one of them," he proudly explains.
Harir's journey toward opening the restaurant began in Israel, where he was born and raised. As a child, he would eat Middle Eastern dishes such as couscous, and he fondly remembers his mother's Yemenite Chicken Soup. Although Harir helped his mother in the kitchen, his real introduction into the culinary industry came during his late twenties.
"Things didn't happen for me until around 27 or 28," he says. "I moved to the United States, and I started managing a bagel store in Connecticut. I would make bagels, the ones you cook in water."
While working at the bagel store, Harir developed his recipe for pita. When he moved to St. Louis a few years later, he managed Pita Plus, a small, family-run institution similar to the Mediterranean Grill. He brought his recipes for falafel and pita to Pita Plus, but wanted the challenge of running his own business. Harir started with a catering venture, which he ran from home. However, his ambition soon outweighed his success.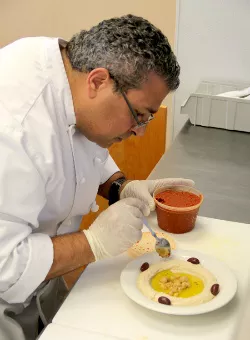 Kelly Hogan
Harir in his kitchen
"I decided I needed a real kitchen, to find a small place and work from there." Harir's hard work paid off, as his dream of owning and operating his own restaurant came to fruition. As we followed Harir into the restaurant's kitchen, he greeted his employees with a characteristic friendliness. He urges the photographer to take pictures of not only himself, but also his entire staff, telling us that, "They've worked hard; they deserve some recognition." Harir seasons some couscous, and delicately sprinkles parsley on top of kabobs. Clearly, this is a man with an eye for detail.
"I went to a steak house recently and ate a great rib-eye," he says. "But the rib-eye was the only good part of the meal. The salad and the stuff that went along with it was just so-so. What makes dinner good is what goes along with it. Restaurants don't know how to balance the flavors."
Harir works for a balance in cooking as well as life. He enjoys spending time with his wife and three children and planning for his restaurant's future. His advice for anyone starting a small business combines some of Harir's favorite ingredients: hard work, passion and time.
"Calculate your steps very carefully," he says. "The feeling of wanting a restaurant is a romantic thing, like in the movies. But in reality, it's not. Maybe after five or six years it is. But to start, be prepared to put in the hours. You have to love the kitchen, or it won't work."
____________________________________________________________
Related Content
Elie Harir of The Mediterranean Grill, Part 2 Elie Harir of the Mediterranean Grill: Recipe for Tabbouleh