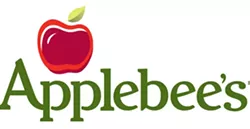 That's it, folks. Park all the food trucks inside a garage and then burn the place down. The trend has reached a nadir from which it can't possibly recover.
Westword
, our sister paper in Denver, reports that
Applebee's has launched a food truck
. The truck is sneakily designed with a logo for Neighborhood Eats, but thanks to year after year of ear-worm ads, you know that "eating good in the neighborhood" is synonymous with Applebee's.
(Though, to be honest, I wouldn't mind seeing what would happen if this thing were to roll up to the next Food Truck Friday.)