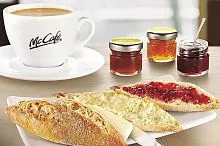 Fear not: You will feel worse foodie misgivings than this as you continue reading.
Breaking news: There are few things French citizens like more than Americans and their global corporations taking their heritage, repackaging it and selling it back to them just a little bit worse. This is probably why the McBaguette, McDonald's latest entry in the international market, is so genius (read: exasperating). Take a French culinary icon, make it cheap, add "Mc" before its name and voila! The rest is catastrophe. Because we recognize both the ridiculousness and difficulty of adapting the McDonald's brand across countries where it doesn't easily fit, Gut Check put together a list of other foods we hope never to see on a McDonald's menu.
5. McLasagna In Canada, McDonald's already sells poutine, the mildly terrifying combination of French (or Québécois) fries, gravy and cheese, so literally nothing is sacred here. The way to make things work on a mass-produced scale is all in the packaging, so we're imagining sloppy corner pieces of Garfield's favorite dish oozing onto some sort of rectangular cardboard contraption. If Sbarro had a drive-through, this is what might result. Forget the fact that McDonald's legitimately already sells boiling-hot oatmeal inside of a paper tube: Lasagna is the new frontier. 4. McEscargot What's the massive medical bill for? Oh, right, food poisoning. If re-created and served to the masses by the hamburger giant, this foreign delicacy would probably remain about as close to its country as the French fry -- which is to say, not at all. With any luck, bringing the fancy snails to the unwashed masses would create both an international PR scandal (think "freedom fries") and a subsequent violent unrest in the class system. Liberté, égalité, fraternité, dollar menu. 3. McSushi This might or might not be what Jeremy Piven was eating on that fateful night. If the sushi served at your local mall's food court is just a little too fresh for you, McDonald's has got you covered. Enjoy raw, warm and potentially imitation crab meat from the comfort of your own Geo Prizm. While you're at it, make sure all your shots are current, and remember to bequeath to your sister that precious collection of state quarters you've always loved.
2. McChili It's already pretty tough to tell what exactly is inside your chili at any given point, which leaves the perfect amount of gray area for the fast food phenom. This option, which would come in large, giant and the size of the Republic of Chile, would include the same meat and cheese used in a Big Mac with a spice factor about the level of the ketchup packet you left in your glove compartment last Christmas. The result is the perfect to-go food for anyone who welcomes excruciating diarrhea on their next cross-country visit to the in-laws.
1. McSquid We're picturing something strangely akin to the video below. You better believe that the fast-food chain would be lax if it didn't invest in surprising and unpredictable new meat sources. Much like HuHot, a chain with select locations that offer exotic meats including buffalo, McDonald's could save the squid for special occasions: visiting heads of state, international treaties, catering at wakes, Internet memes, pre-prom dinner.