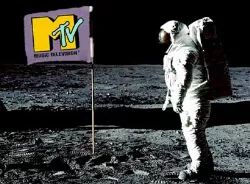 Happy birthday, MTV! Although you take a lot of whacks for not playing music anymore, there's no doubting the swift and massive change in American culture after your debut. Not only did video kill the radio star, it smacked the crap out of staid old food advertising. In a few brief years, we went from snappy jingles to ads that could pass for music videos.
This wasn't always a good thing.
Kraft tip-toed the copyright infringement line. Miracle Whip it good!
Oingo Boingo wasn't angry about the New Wave-ization of advertising. Not only did it write a Budweiser jingle, it starred in the video.
We have no idea who the beach rockers singing for Shasta are. And we're good with that.
You can do it! You can do the Pac-Man! Not to be confused with "Pac-Man Fever." Or the video game. This is all about breakfast. Dave Stewart of the Eurythmics surely choked on his gum when he heard this Bubblicious commercial. Its synthesizer riff's a dead-ringer for "Sweet Dreams (Are Made of This)."
Breakdancing! Roller disco! Fake rock stars! Synthesized squeaks added to disappearing food! McDonald's got hip to what the kids wanted.
Cel-a-brate chicken nuggets, come on! Kool and the Gang peaked prior to the MTV revolution and were left to make their music videos as Wendy's commercials. Get down on it! Frosty boogie!
With David Bowie and Tina Turner doing its bidding, Pepsi was the choice of the MTV generation.