Welcome to Girl Walks Into a Bar, a weekly Gut Check feature that spotlights local bars and bartenders. This week, Chrissy Wilmes profiles Atomic Cowboy's Mike Anderson. Below is a Q&A with Anderson, followed by the recipe for Atomic's White Sangria.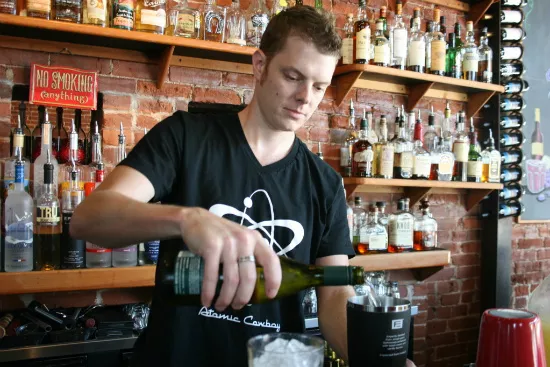 This November, Mike Anderson will complete his first decade as a St. Louisan. Born and raised in Iowa, where he began bartending, Anderson later moved to North Carolina briefly before relocating to the Lou. Now in his fifth year tending bar at Atomic Cowboy (4140 Manchester Avenue, Forest Park Southeast; 314-775-0775), where he's known as "Mikey," Anderson fosters his love for inventive signature cocktails and a good party. (Atomic's Wednesday-night Dollar Bin is his favorite.)
Anderson's love for bartending came out of a love for cooking, especially grilling. "I'm intrigued with different cocktails," he explains. "I like to cook at home, and [bartending] is very similar. I like to experiment with different flavors." When he's not behind the bar or the Weber, he enjoys finding time to travel and relax with his family. "I like to do outdoor stuff, like landscaping. And spend time with my girlfriend and the kid," he says with a wide smile.
He took a short break from the busy Wednesday evening Dollar Bin prep to answer some questions and mix up a White Sangria. If a cocktail fit for a 98-degree-80-percent-humidity day is what you seek, look no further. The fruity drink is cool and refreshing but not too sweet. It's made for sipping slowly on the patio on a hot July night.
Describe your bartending style in three words: Simple, fast, tasty
Your bar is the only bar in St. Louis where... you can get $1 PBR or $3 well drinks every Wednesday night for Dollar Bin. One of the best parties on Wednesday night.
Girl walks into a bar and orders a _______. She has just earned your undying admiration. Any kind of whiskey on the rocks
The most dumbass/bizarre drink anyone's ever asked for. It was a shot, actually. It was vodka and soy sauce. The guy brought his own soy sauce bottle in. All that salt and alcohol...
Other than your own bar, where do you go to get a good drink, and what do you have? I tend to stick around the house, but I like to go to the Royale. It's right around the corner from my house. It's a nice little spot and they have good cocktails there. The one I drink the most is the Corpse Reviver II. It's one of my favorite cocktails there.
Who would you most like to have a drink with? Zach Galifianakis
If my friends and I simply must have a round of shots, what should they be? Jägerbombs! Nah, I'm kidding. I'd probably make you our house-infused cucumber vodka as a lemonade shot. So, fresh lemon juice and simple syrup. It's pretty awesome.
Best/worst/most exciting thing you've witnessed at your bar? We just had the Slumfest here, and there were filming an episode of MTV's Made There was a young, fifteen-year-old kid who wanted to be a hip-hop artist, and he was onstage doing his thing. It was kinda cool.
Chrissy Wilmes
The fantastically fruity White Sangria
White Sangria
2 oz. Sauvignon Blanc
1/2 oz. lemon juice
1/2 oz. simple syrup
1/4 oz. limoncello
1/4 oz. Orchard Pear fruit liquer
A splash each of pineapple, lemon and orange juices
Shake over ice.
Top with a peach brandy float.