The Veggielante has had it up to here with people bitching that St. Louis restaurants are vegetarian unfriendly. Sure, we'd like to see more restaurants offering more meatless dishes, but there are excellent choices out there if you take the trouble to look for them. We're not here to proselytize about greening up your diet. Our only motive is to spread the word about places where you can order good grub that ain't got no meat. To enhance your reading experience, we've settled on a handful of criteria we'll use to suss out a restaurant's vegetarian friendliness.
Destination: Urban Eats Café & Bakery (3301 Meramec Street, Dutchtown; 314-558-7580)
Neighborhood: Dutchtown
Overview: When Caya Aufiero and John Chen took over ownership of the Liermann Building in 2005, they did so to help Dutchtown get back on its feet. They envisioned the space as a neighborhood hub, where folks from the community could organize artistic, educational and financial projects. What they didn't foresee was a future where the space would not only house their home, but also their very own restaurant. As owners of the Urban Eats Café, Aufiero and Chen are continuing their efforts to bring together the Dutchtown community one rice bowl at a time.
Bryan Peters
The veggie flatbread at Urban Eats Café
The Grub: With no restaurant experience between the two, these self-proclaimed "reluctant restaurateurs" designed the café based on their own research, and they put it together with the help of volunteers. The menu, too, is a communal effort, with Chen and other staff members used as the guinea pigs for Aufiero's creations. Their approach to cuisine is "fast casual," which translates to speedy service of fairly refined food.
The concept for the menu could be described as "choose your own adventure-esque." First, adventurer, you choose from Asian, Italian, Southwestern, Mediterranean or American flavors. Then choose chicken, salmon, turkey, bacon and pepperoni or vegetarian for your main ingredient. Finally, you select the form you'd like these ingredients to take, whether it be a panini, wrap, flatbread pizza or rice bowl.
We opted for the Italian (consisting of roasted garlic mayo and sweet red pepper pesto with mozzarella) rice bowl with bacon and peppero -- just kidding! Our rice bowl was filled with hummus and mushrooms, one of the two sub options under the vegetarian ingredient blanket (the other being a homemade eggplant caponata spread).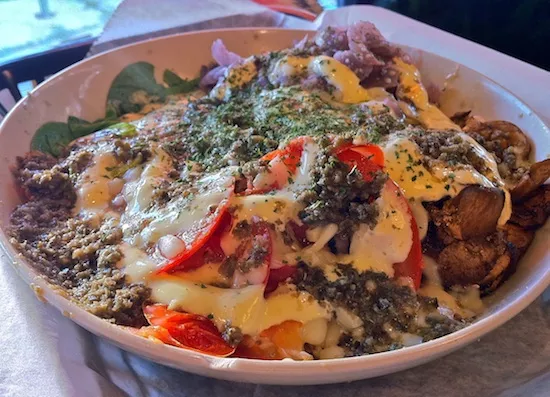 Bryan Peters
A rice bowl that's big on flavor, small on price

Seasonality/sourcing: Aufiero and Chen do use some local produce, but the ingredients aren't entirely locally-sourced.

Resistance to clichés (vegetable medleys, pre-made veggie burgers, etc.): Although the menu has quite a few familiar items, we're fond of the format, as it makes these items easily customizable.

Improvisations & accommodations (vegan, gluten-free, etc.): Urban Eats has a lot of meat on the menu, but there are still ways for vegans and gluten-free diners to get their kicks. They've prepared a spreadsheet for folks with alternative diets; many of the sauces are vegan and/or gluten-free, and tofu is always an option as a protein substitute.
Extra credit: Everything Aufiero and Chen are doing for the community -- from offering Urban Eats as a free meeting space and art gallery to sponsoring community events such as the Blessing of the Bikes.

Overall score:
Standout item: Vegetarian rice bowl.
Honorable Mention: The "rum bunny" boozie chaser from Urban Eats' Bar +.