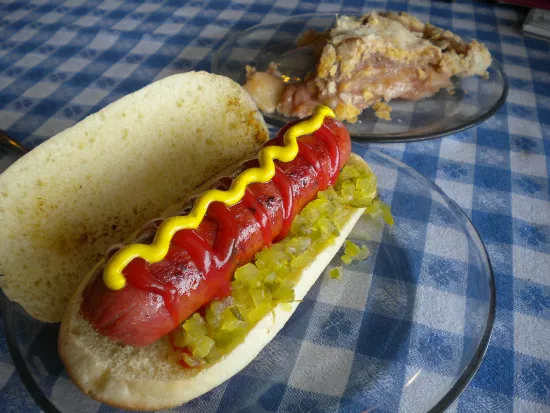 St. Louis has plenty of delicious options for apple pie: Sugaree, Jennifer's Pharmacy, Winslow's Home, the Good Pie. Apple pie accompanying a viewing of the highly anticipated Captain America: The First Avenger, however, must be beyond ordinary. Almost superheroic. Plus, what's more American than a slice of apple pie? A hot dog with that slice of pie.
Finding a restaurant that served both hot dogs and apple pie proved to be an ambitious quest. It wasn't until we got 30 miles out of the city that we found Blue Springs Cafe (3505 George Street; 618-654-5788) near Highland, Illinois, home of the "foot-high pie."
Dining at Blue Springs feels like a step back into simpler times. The cafe itself sits in the middle of cornfields along Interstate 70. Inside, the staff debates how to fill the softball roster. Blue gingham tablecloths cover the long tables and booths, while the walls are adorned with country decor and the never-changing menu: gizzards, half chickens, chops, corn dogs and more.
It all looked tempting, but Gut Check was working on a theme. Technically, the hot dog was on the children's menu, but the waitress was more than willing to accommodate an adult order. The hot dog itself was of a classic, all-American quality: one-quarter pound and served on an equally substantial potato bun.
The apple pie proved not quite as superheroic as hoped, however. Although Blue Springs Cafe prominently advertises foot-high pies, that refers to the meringue-covered varieties. Still, the more modestly proportioned apple pie had an intense apple flavor without being overwhelmed with cinnamon or other spices.The simple apple taste shone. The bottom crust was not a bit soggy, and the crimped edges glistened where the apple filling had boiled up and jelled.
Listening to the staff still debate the lineup for their softball team (close enough to baseball, Gut Check figured) -- and having been able to down a hot dog and apple pie -- Gut Check felt more than mentally prepared for Captain America: The First Avenger.
Like Blue Springs, Captain America hearkens back to simpler times, before war got messy and the enemies so ambiguous. In fact, Captain America doesn't even fight the Nazis; he fights the fictional group Hydra and its leader, Johann Schmidt (a.k.a. the Red Skull), who, of course, are even worse than the Nazis. We hardly see WWII, instead getting swept up in the fight against Schmidt, played by Hugo Weaving of The Matrix. The faceless Hydra troops recall the Stormtroopers from Star Wars, and when they die, we never even see a glimpse of their pain or humanity. The bad guys are very, very bad.
Captain America (Chris Evans) himself has charm both as the puny Steve Rogers and as the more muscular, re-engineered superhero. Peggy Carter (Hayley Atwell) is both Cap's love interest and one tough cookie; so tough, in fact, that Colonel Chester Phillips (Tommy Lee Jones) "takes a chance on her," making her an army officer in the 107th division. Peggy becomes a woman in combat, charging along, weapon in hand, with the rest of the troops, who rarely question her presence, even though the only other female characters are USO-style dancers or nurses.
To make the World War II-era Captain America fit into the upcoming and unprecedented Avengers film, director Joe Johnston frames the film with an epilogue set in the 21st century. No spoilers here, but anyone who has seen Michael Powell's 1946 film, A Matter of Life and Death, will recognize Johnston's inspiration.
LIfe in 2011 isn't as simple as in 1942. Today, we worry about the byproducts in our hot dogs and the chemicals on our apples. Instead of one super-villain, we face many ambiguous forces that recall Hydra's motto: "Cut off one head and two more will come." Which is exactly why a slice of pie and two hours in an air-conditioned movie theater are a much-needed escape from reality.