Your typical Fight Club Sandwich throwdown pits one thingie against another thingie. You know: cupcakes. Hot dogs. Designer beer in cans. Trouble is, when you're talking dog treats -- and today we're talking dog treats -- you need to bear in mind that given the choice between two treats, a dog is going to eat both of them and not betray an obvious preference for either. So rather than stack up one treat against another treat, in this FCS bout we evaluate one kind of treat, consumed by several dogs.
The Treat:Dog treats from Bittersweet Bakery (2200 Gravois Avenue, Benton Park; 314-771-3500). Retail for $0.75 each.
The Panel of Testers: Fluffy, a miniature poodle Peanut, a miniature Chihuahua Chip, a champion Samoyed Steuben, a fancy pants dog and Gut Check's official dog-treat taste tester
The Results: Bittersweet Bakery has quickly become known for their elegant European-style confections. In the tradition of the dog-loving French, Bittersweet also sells dog treats along side the tortes, galettes, macaroons and meringues.
The dog treat itself comes in the shape of a bone or a fire hydrant. With an extremely firm and dry texture, the cookie breaks into small chunks rather than crumbling or tearing. Cornmeal gives the treat a sandy look, but some dogs might have a difficult time digesting corn.
Fluffy, a miniature French poodle, seemed like the natural first choice to sample the treat. Although he lacks teeth and has a pronounced tendency towards gassiness, Fluffy expressed a fondness for the Bittersweet treats, so much so that his owner requested that the store location buy more. Steuben, likewise, offered to eat as many of the treats as anyone was willing to feed him. Rather than immediately inhaling the treat, as is his usual habit, Steuben found that the markedly firm texture of the treat forced him to crunch away for quite some time.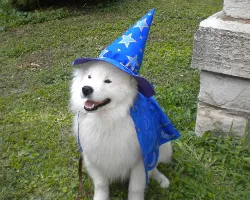 Deborah Hyland
Chip, one of our canine critics
Given Steuben and Fluffy's digestive issues, Gut Check turned to a few canine spectators at the recent Pagan Picnic in Tower Grove Park. Feeding a corn-based treat to a Chihuahua seemed so clichéd that Gut Check hesitated. Peanut, however, didn't mind sampling the Bittersweet treat as he attended his first Pagan Picnic. Age four, he gets the occasional Milk Bone as a reward; his tendency to put on weight easily prevents him from indulging too often, however. When offered a piece of the Bittersweet treat, Peanut sat willingly and gently took the treat, but spit it out and refused to eat it.
Next, Gut Check turned to the nearest Samoyed in a wizard costume, Spirits Ransom of Red Chief, who prefers to go by his nickname, Chip. At age two, Chip is extremely food-motivated and will even yodel for a treat. Having been in the show ring, Chip has learned to take treats without any risk to the offering hand. Like Peanut, however, Chip spit out the Bittersweet treat.
The Verdict: Perhaps it was the excitement of pagans frolicking, or perhaps they were holding out for meat-on-a-stick from a nearby vendor, but two dogs rejected the Bittersweet treats. The two who particularly enjoyed them were perhaps not the best candidates for a corn-based treat. Since the treats only cost 75 cents, finding out if your dog enjoys and can tolerate them isn't much of a risk.