Gut Check loves us some wine. We want a bottle with bang and a bang for our buck, so every week we will visit a local wine shop, where an expert will recommend a good-value wine priced under $15. We'll drink some and tell you whether we want to continue -- because the only time Gut Check has our nose in the air is while we're draining our glass.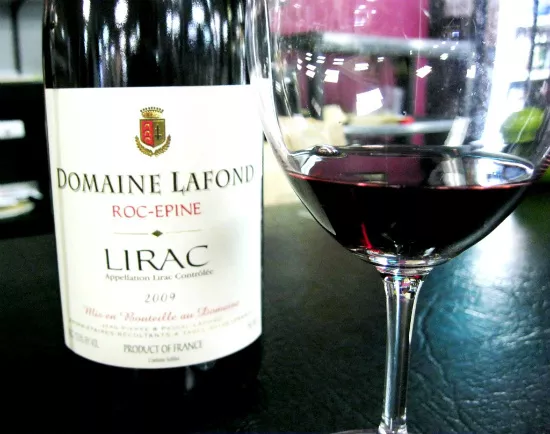 Erika Miller
The Domaine Lafond Lirac Rouge is a blend of grenache and syrah from France's Rhone Valley.
"I'm a Francophile," declared Dave Davis, assistant manager and "man about town" at the Wine Merchant (20 South Hanley Road, 314-863-6282) as he swilled a glass of 2009 Domaine Lafond Lirac Rouge from France's Rhone Valley.
When Gut Check popped in to the Wine Merchant on a sweltering (more like effing hot) July evening and asked Davis for a recommendation, he presented us with this red Cotes du Rhone. "If I had one area I could drink wine from, I would do the Rhone Valley," Davis says, citing its breadth of grapes and styles. "It covers all the bases."
The label on the Cotes du Rhone is as unassuming as the Wine Merchant itself, where helpful staff members dressed in casual T-shirts greet customers and traverse the many aisles making recommendations. The Wine Merchant appeals to wine experts and novices alike, with a huge selection of wines and an assortment of cheeses. For those wanting to expand their wine knowledge, the Wine Merchant offers classes and tastings several times a week.
During our impromptu lesson on Rhone Valley wines, Davis explains that this particular Cotes du Rhone is a blend of 70 percent grenache and 30 percent syrah. Grenache is predominant in the southern section of the Rhone Valley, while syrah rules in the north. This particular blend hails from Lirac, in the south of the Rhone. Davis credits the rockier soils for the nice mineral content of the wine, which he says shines through on the palette along with hints of dark red fruit and black pepper.
Erika Miller
Dave Davis, assistant manager at the Wine Merchant and self-proclaimed Francophile
After taking a swig, Davis points out that the grenache is a lighter grape and the mouth feel of the wine is similar to a Pinot Noir. Recommended food pairings for this wine include lamb, barbecue, pork tenderloin and full-bodied vegetarian dishes. According to Davis, "there's nothing better than a good Cotes du Rhone in winter with a beef or lamb stew." Uh, what about in the disgusting heat of July? Davis suggests stealing a trick from the French and sticking this red in a bucket of ice to keep the temperature down. This seasonless wine is currently on sale for $14.99 at the Wine Merchant, two bucks off the regular price. How long is the sale? "Until we run out," says Davis, "and we have a fair amount."
It's hard not to trust a man like Davis, who describes wine with the casual expertise of a coach discussing the strengths of his players. Though he could have any wines he wanted in his personal collection, he says around 75-80 percent of his is from the Rhone Valley. Francophile, indeed.
Gut Check's final take?The Domaine Lafond Lirac Rouge pours an attractive deep purple and after swirling our glass in an imitation of Davis, we were pleasantly surprised by the light, fragrant bouquet. Davis told us he picked up raspberry, earthiness from the minerals and a hint of flower petals. Though our nose isn't as attune to wine as Davis', the earthy fruit aroma is enticing. Our first mouthful is lush - this red didn't try to overwhelm with domineering fruit flavors and acidity. The wine coats the mouth and is a touch hot at the end, and we're able to detect the peppery spice Davis mentioned.
We can't wait for the frigid chill of December to try this wine with lamb stew, but for now we're content sipping this versatile wine with our summer barbecue.