You have our attention,
Cheese-ology
, with your weekend Tweets about adding bacon to Rice Krispie treats. We thought it was a one-off -- and probably pretty tasty -- incident, until we saw The Burping Camel tweeting a similar tune:
Not that this is the first sign of the cereal treat take-over. Park Avenue Coffee's been doing Wacky Wednesday, where they offer treats made with cereals of their customers' choosing. Like this June 29 offering:
Are fancy-pants Rice Krispie Treats the trend predecessor to cupcakes?
Lorraine Alessandro of Encino, California, added a Rice Krispie Treat Mulholland Bridge to her cake sculpture ode to Los Angeles' Carmageddon.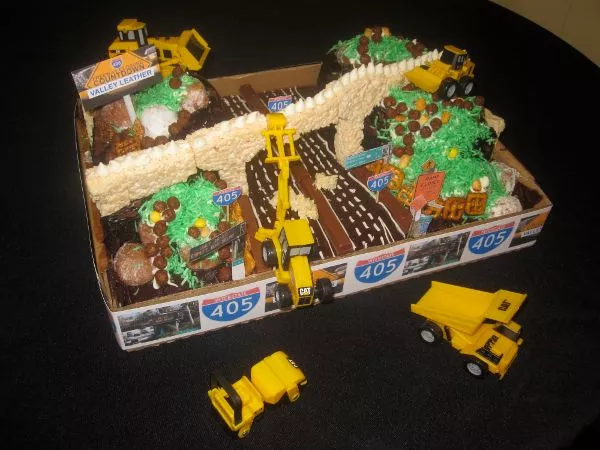 Los Angeles Daily News
Rice Krispie Treats at Carmageddon.
When trends collide! The Good Food Truck in Atlanta offers a rotating selection of internationally-themed Rice Krispie Treats: Japanese candied ginger and sesame seeds; Mexican chicharrónes, chili and lime; Chinese candied peppercorns, orange zest and cashews; and Presleian peanut butter, banana and bacon.
TLC's Cake Boss Buddy Valastro made a 2,000-pound Transformers cake last month that included Rice Krispie Treats as an integral part of its structure. Trendy and functional! It's state fair time, so you know someone's going to jam a stick into a Rice Krispie Treats. Nebraska's on it. Its state fair will be serving chocolate-dipped Rice Krispie Treats on a stick .
Our sister paper, the Phoenix New Times, recently featured Avalanche Bars from Cookies and Cups -- a Rice Krispie Treat crammed with white chocolate, chocolate chips, peanut butter and marshmallows. It forgot the bacon.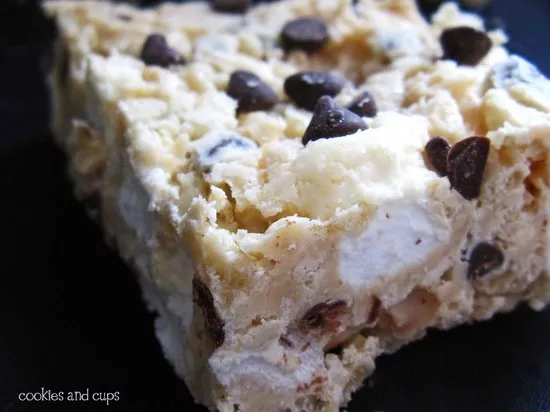 Cookies and Cups
Avalanche!