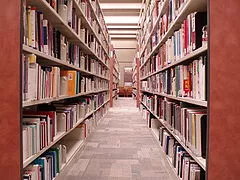 Wikimedia Commons
Don't fear the stacks. St. Louis Public Library will accept food for fines in July.
Stop hiding from the library cops. There are still a few days for library delinquents to take advantage of the St. Louis Public Library's Food for Fines program.
Through the end of July, all branches of the St. Louis Public Library will accept non-perishable food items in exchange for fines. Each donated food item will erase one dollar in fines, up to $25. The food will be donated to the St. Louis Area Foodbank.
"We do not have the figures for how many people meet that $25 limit," said St. Louis Public Library Program Coordinator Rachel Smith, "but we do not think it is often that a patron meets that limit.
"Last year, $15,143 in fines were erased, and 11,781 meals were provided to folks in need."
And the people in need keep increasing. The 2011 State of America's Children - Child Hunger report was released last week with some dismal numbers. Kids receiving food stamp/SNAP benefits has jumped by 65 percent in the past decade nationwide. In Missouri, that's an increase from 197,603 kids to 359,000. Only one in nine children who rely on free or reduced-price school lunch has access to the Summer Food Service Program.
Protein-rich foods are the most needed. The St. Louis Area Foodbank requests canned meats, peanut butter, canned fruits, beef stew, canned soup, baby formula, canned chili, hot and cold cereal, rice and beans, powdered milk, macaroni and cheese, and canned vegetables, all in non-breakable packaging.
All library branches will accept food from people without fines, too.