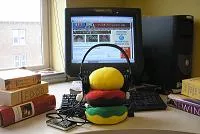 Gut Check dishes on our favorite St. Louis food blogs.
The Cupcake Project: In the quest for the ultimate vanilla cupcake, Stef narrowed 700 cupcake explorers to 50.
Kaldi's Coffee: Amanda previewed new changes to the Chesterfield location's menu.
Off the Menu: Judith celebrated National Ice Cream Day with a fried frozen treat.
Sauce: Sanctuaria shared a Creature from the Black Lagoon.
Veg St. Louis: Clara Moore of Local Harvest Café sat down for a rap session.