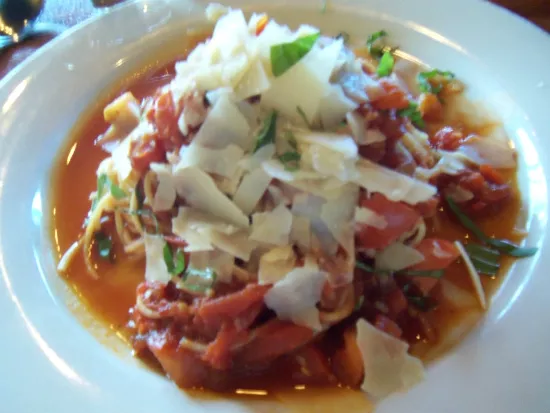 Nothing beats a good Spaghetti Pomodoro. You can find it on the menu at most Italian restaurants, and it's usual the safe, go-to classic when deciding what to order. Italian's don't like too many bells and whistles in their cooking, and the Spaghetti Pomodoro at Babbo's Spaghetteria (17402 Chesterfield Airport Road, Chesterfield; 636-5636-0000) is no exception to this rule. Babbo's Pomodoro keeps things simple, but doesn't ignore presentation or taste.
The spaghetti noodles are cooked al-dente, and remind you a little of a woman's messy bun: even while the strands appear haphazardly placed, there is a simple elegance to their arrangement.
The Pomodoro sauce is composed of ripe, juicy, diced tomatoes, onions and a generous helping of extra virgin olive oil. The olive oil and juice from the tomatoes form an amber colored broth around the noodles, perfect for sopping up with extra pieces of crusty bread. Soft, paper-thin shavings of Parmigiano are sprinkled on top of the noodles, and blend perfectly with the Pomodoro sauce and Basil garnish.
Spaghetti Pomodoro doesn't make a bold statement. Compared to a complex, beef and cheese layered lasagna, and a Neapolitan pizza with caramelized onions and sausage, the Pomodoro could easily fall under the radar. But one bite of the Spaghetti Pomodoro at Babbo's will intrigue and surprise you, and proves the old adage true: never ignore the "quiet ones."
Beginning last year, RFT restaurant critic Ian Froeb counted down -- in no particular order -- 100 of his favorite dishes in St. Louis. Now Gut Check has taken up where he left off. Check back frequently as we detail our 100 favorites, and don't hesitate to send us yours, too, either via the comments thread or at tips@riverfronttimes.com.
Previously:
#76: Shrimp Fajitas at El Matador #77: Vegetable Quesadilla at Chava's #78: Companion Rustic Olive Bread #79: Salt and Pepper Shrimp from Wei Hong #80: Ba-Mee Mhoo Dang at Basil Spice #81: Catfish Platter at the Gumbo Shop #82: Shrimp & Andouille Flatbread at the Shaved Duck #83: Vegetarian Pasta at Terrene #84: Seafood Stuffed Mushrooms at Zia's #85: Legend Club at LeGrand's Market & Catering #86: City Coffeehouse & Crêperie's Nutella-Banana Crêpe #87: Raw Vegetable Lasagna at Scape #88: Quesadilla Azteca from Tower Tacos #89: The Perfect Pear at Foundation Grounds #90: Banh Mi Sandwich from Sweet Art #91: Chicken and Dumplings at Yummies Soul Food Cafe #92: Cuban Sandwich from La Tropicana #93: The Prosperity at Ruma's Deli #94: Cherry Cheese Danish from Missouri Baking Company #95: Bread Pudding with Whiskey Sauce at Ruth's Chris Steakhouse #96: Egg Salad Sandwich at Township Grocer #97: Cheeseburger and Fries (Extra Crispy) at O'Connell's Pub #98 Mussels & Fries at Brasserie by Niche #99: Beef Taquitos Mexicanos at El Indio #100: Spinach Artichoke Dip at Cafe Eau