If the board of adjustment says yes, this corner could become a bar, restaurant and bustling patio.
The city's board of adjustment is expected to consider a plan today that would allow a full bar and restaurant, along with an outdoor patio, at 4501 Maryland Avenue -- a corner of the Central West End that's currently comprised of condos, apartments and a few single family homes.
The space in question is the ground floor of an eight-story condo building at Maryland and Taylor. The city's building commissioner turned down the applicant's request for a building permit to renovate the space to allow a restaurant and bar, city records show. The area is zoned for single-family homes.
The applicant, who is now appealing to the board, is Darmin Beganovic, according to city records. He's the owner of
Caffe Milano
(5045 Gravois Avenue; 314-832-1337)
a Bosnian coffee shop in Bevo Mill.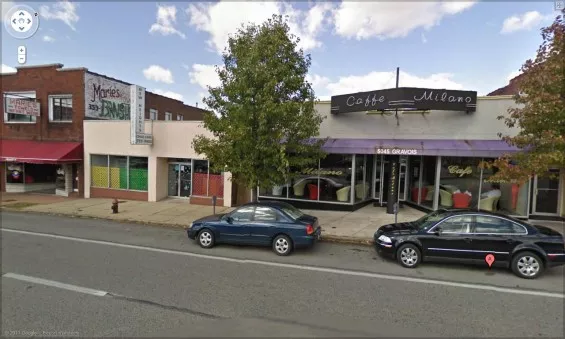 Caffe Milano, Beganovic's other spot, is in the Bevo Mill neighborhood.
Beganovic did not respond to messages seeking comment, but, in email messages, he has told neighbors that he's hoping for a business not all that different from Caffe Milano: coffee-style drinks in the morning, along with bagels and donuts; pizza, crepes and ice cream during the day; and perhaps cheese that goes well with wine in the evening hours, along with beer.
Out of respect for the block's residential character, Beganovic has indicated that he wouldn't open the place 'til 9 a.m. daily and intends to play "soft Italian music" on site.
The board is also expected to consider an application for a new restaurant, Soul-N-Bowl, at 5535 Delmar. That's a spot between Union and Skinker, in a still-gentrifying area east of the Delmar Loop. The owner is asking for an occupancy permit for a sit-down restaurant that would also handle carry-out orders; there would be no liquor on site and no outdoor seating.
The meeting begins today at 1:30 p.m.; we'll let you know the scoop as soon as we get it.